One notable venue is Pure Life House of Music, which offers a platform for up-and-coming artists to showcase their talent. The venue is known for its intimate setting and lively atmosphere, making it a favorite among locals. For those more inclined toward classical music, the LaGrange Symphony Orchestra offers a range of performances throughout the year. The orchestra, which has been around for over 30 years, performs a mix of classical and contemporary pieces.
But perhaps the most well-known venue in town is Sweetland Amphitheatre, which has a capacity of over 2,500. From country to rock to pop, Sweetland has seen an impressive lineup of artists perform on its stage. With the arrival of summer comes an exciting lineup of concerts and events in LaGrange, Georgia. Here's our 2023 Summer Music Guide to ensure you get to all the must-see shows of the season.
Friday, October 13
Black Violin
Sweetland Amphitheatre
Gates Open: 6:30 PM | Show Starts: 8:00 PM
Black Violin is an American hip hop duo from Fort Lauderdale, Florida comprising two classically trained string instrumentalists, Kevin Sylvester and Wilner Baptiste, who go by the stage names Kev Marcus and Wil B. Kev Marcus plays the violin, and Wil B. plays the viola. Classically trained by day, they faithfully put on their headphones and listened to the hottest rap records each night. They went to different colleges—Marcus attended Florida International University and Wil B went to Florida State—but then reconvened, moved into an apartment together, and started trying to produce other musicians.
Black Violin's work extends far beyond the stage, reaching deep into urban communities with numerous free performances for students and hands-on engagement with youth symphonies and community centers. Through the TurnAround Arts program, Wil and Kev connect with more than 100,000 students throughout the year, mostly at low-income and Title 1 schools, and adopted Bethune Elementary, in Florida's Broward County (near where they grew up) to initiate an ongoing mentorship program.
Wil says that Black Violin isn't always explicit with its message, but that they don't have to be—that the creation of an audience that is multi-generational, ethnically and economically diverse, is a powerful statement of its own. "The stereotypes are always there, embedded so deep in our culture," he says. "Just by nature of our existence—the Idea that these black guys who could be football or basketball players are playing the violin—we challenge those ideas. It's a unique thing that brings people together who aren't usually in the same room, and in the current climate, it's good to bring people together."
---
Friday, October 20
Blues Traveler w/ The Robert Randolph Band
Sweetland Amphitheatre
Gates Open: 6:30 PM | Show Starts: 8:00 PM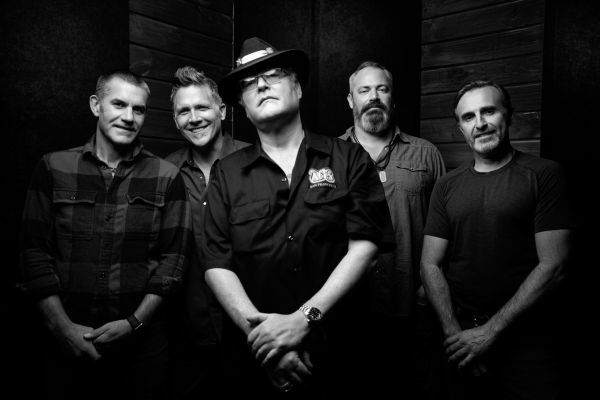 In 1987 the four original members of Blues Traveler—John Popper, Chandler Kinchla, Brendan Hill, and the late Bobby Sheehan—gathered in their drummer's parent's basement in Princeton, NJ to jam. From these high school sessions emerged a band that would go on to release 14 studio albums and counting, four of which have gone gold, three platinum, and one six-times platinum- selling more than 10 million combined units worldwide. Over an illustrious career Blues Traveler has played over 2,000 live shows in front of more than 30 million people, and, in "Run-Around," had the longest-charting radio single in Billboard history, which earned them a Grammy® for Best Rock Performance by a Duo or Group with Vocals. Their movie credits include Blues Brothers 2000, Kingpin, Wildflowers and others. A television favorite, they have been featured on Saturday Night Live, Austin City Limits, VH1's Behind the Music and they have the record for the most appearances of any artist on The Late Show with David Letterman. Blues Traveler's latest effort, 2021's Traveler's Blues, is nominated for a Grammy in the category of "Best Traditional Blues Album," bringing their 35-year journey full circle.
A virtuoso on the pedal steel guitar, Robert Randolph jumped from spiritual to secular music and found an audience among blues fans, roots rock aficionados, and jam band followers with his fiery, passionate instrumental work and heartfelt music. While Randolph cut his teeth playing in services at the House of God Church in his native New Jersey (a domination where the pedal steel is a key part of the musical program), his talents were discovered by fans outside the church, and he made his debut with a live album recorded with his backing group the Family Band, 2001's Live at the Wetlands, that mixed gospel and full-bodied rock and blues. Randolph's first studio set, 2003's Unclassified, broadened the scope of his repertoire with flashes of funk and Caribbean sounds. His subsequent albums with the Family Band, such as 2010's When We Walk This Road (produced by T-Bone Burnett) and 2013's Lickety Split, were steeped in passion and energy that came from their heartfelt fusion of multiple genres.
---
If you find yourself at the end of the concert but not ready for the evening to end we have a few ideas for you. Stop by Wild Leap Brew Co, a popular brewery and taproom with live music and events on weekends. Visitors can enjoy a variety of craft beers and food trucks while listening to local musicians. Brickhouse Grille is also a great spot for late-night entertainment, offering live music on weekends, a full bar and a diverse menu of American cuisine.
Want to make a night of it? LaGrange offers a variety of lodging options to suit different preferences and budgets. The Courtyard Marriott on Lafayette Square is a popular option with comfortable accommodations and the perfect location in the center of town. For those looking for a more upscale experience, the Truitt Vanderbilt Club offers elegant rooms in a historic mansion. Another popular option is the Hampton Inn, which offers complimentary breakfast and an outdoor pool. Overall, LaGrange offers a range of lodging options to suit different needs ensuring a comfortable and enjoyable stay for visitors.
---
Several local spots are well known for hosting live-music nearly every weekend! Many smaller and local artists are hosted at LaGrange's restaurants, breweries and wineries. Check the following venues out on social media to discover who's playing during your vacation!
---
SEE WHAT YOU MISSED IN 2023
Did your favorite artist already come to town? We're sorry you missed them. Make sure to stay tuned for future concert announcements. Our incredible music venues are hosting shows year-round!
Saturday, April 29
Jeff Foxworthy: The Good Old Days
Sweetland Amphitheatre
Georgia native and celebrated comedian Jeff Foxworthy is set to bring the laughs to LaGrange with his comedy tour, dubbed The Good Old Days. Foxworthy is one of the most successful comedians in the industry, having released six comedy albums that have sold more than 13 million copies. His comedy tour is a must-see event for anyone who loves to laugh. Best known for his "You Might Be a Redneck" comedy routine, touring the world with the Blue Collar Comedy Tour and his work as the host of the game show "Are You Smarter Than a 5th Grader?" Foxworthy has cemented himself as a legend in the comedy and performing arts world. It's sure to be a laugh-filled evening!
---
Thursday, May 4
.38 Special
Sweetland Amphitheatre
Classic rock enthusiasts will be happy to hear that .38 Special is coming to town. Their music is characterized by a blend of Southern rock and melodic pop, with catchy hooks and guitar-driven melodies. Since 1976, the band has released over 15 albums, with recognizable hits like "Hold On Loosely," "Rockin' Into the Night," and "Caught Up in You." If you are a fan of classic rock radio, you will definitely be familiar with .38 Special's setlist (but you never know what surprises may be in store)!
---
Saturday, May 6
Bowties & Pearls: "An Evening of R&B and Soul"
Sweetland Amphitheatre
Join the Troup-Coweta Alumnae Chapter of Delta Sigma Theta Sorority, Inc. for the 7th Annual Bow Ties & Pearls, "An Evening of R&B and Soul". The event aims to raise funds for the chapter's service work in Troup and Coweta counties, and attendees are encouraged to bring a pair of new shoes to be donated to "The Soul of My Footprint" foundation, which provides shoes to underprivileged children in Uganda, Africa. All donors will be entered into a drawing for door prizes and gourmet food truck vendors will be on-site for a delicious dining experience while you enjoy the evening.
---
Saturday, May 13
Scott Cook with Pamela Mae
Pure Life House of Music
Scott Cook is a songwriter from Alberta, Canada, who quit his job teaching kindergarten in Taiwan in 2007 to become a full-time troubadour. He has since toured extensively in various countries, performing an average of 150 shows and a dozen summer festivals per year. Cook is touring his latest album all over North America, with the belief that songs can change your life and your life can change the world.
---
Friday, June 9
The Commodores
Sweetland Amphitheatre
The Commodores are an American funk and soul group that originated in Tuskegee, Alabama, in 1968. The band's original lineup consisted of seven members, including Lionel Richie, who later became a successful solo artist. Known for their dynamic live performances and catchy tunes, the Commodores achieved mainstream success in the 1970s and 1980s with hits such as "Brick House," "Easy," and "Three Times a Lady." With multiple Grammy Awards and over 70 million records sold worldwide, the Commodores remain one of the most successful and enduring funk and soul bands of all time.
---
Friday, June 16
Adam Hood
Pure Life House of Music
Adam Hood is a musician and songwriter who has made a name for himself in the country, soul, and American roots music genres. He began his career at the age of sixteen, playing weekly sets at a local restaurant in Alabama, paying tribute to his musical inspirations, including John Hiatt, Delbert McClinton and Travis Tritt. Adam's dedication to his craft led to national success, including a three-year nationwide tour as the opening act for Leon Russell. Today, some of the same artists that he covered as a rising star in Alabama are fans of his, and they play his songs too, including Miranda Lambert, Little Big Town, Brent Cobb, Whiskey Meyers, Cody Jinks and Travis Tritt himself.
Adam has released music under his own record label, Southern Songs, and his latest album, Bad Days Better, was recorded at Macon, Georgia's historic Capricorn Studios with the talents of Adam along with Brit and Richard Turner (of Blackberry Smoke) and Charlie Starr. The album is a glimpse into a more vulnerable side of himself, and it reflects the unique culture of the American south.
---
Thursday, June 22
Jason Isbell and the 400 Unit
Sweetland Amphitheatre
Jason Isbell and the 400 Unit are an American rock and roll band based in Muscle Shoals, Alabama and a must-add to your summer concert schedule in LaGrange. Led by singer-songwriter Jason Isbell, the band is known for their poignant lyrics, intricate guitar work, and dynamic live performances. Since their formation in 2007, they have released several critically acclaimed albums, including "Southeastern" and "The Nashville Sound," which have garnered widespread praise for their exploration of themes such as addiction, redemption, and the complexities of modern American life. With multiple Grammy Awards and a loyal fan base, Jason Isbell and the 400 Unit continue to push the boundaries of the Americana genre while staying true to their roots in Southern rock and country.
---
Saturday, July 8
Barry Waldrep & Southern Culture Revival
Pure Life House of Music
7:30 PM – 10:00 PM
Barry Waldrep & Southern Culture Revival (Acoustic Allman Brothers Tribute) are bringing The Allman Brothers Sound to LaGrange. Featuring special guest April Huddleston (Nora Jones Tribute), you know this is going to be a big time!
---
Friday, July 21
Tracy Byrd with Jo Dee Messina
Sweetland Amphitheatre
Gates Open: 6:30 PM | Show Starts: 8:00 PM
What says summer like classic country tunes on a Friday night? Country music legends Tracy Byrd and Jo Dee Messina are teaming up for a star-studded show in LaGrange. Tracy Byrd became well-known in the mid-1990s due to his debut single "Holdin' Heaven," which became a number one on the Billboard Hot Country Singles chart. His music has a traditional country sound with a touch of rock and roll. Byrd has a career spanning over three decades, with multiple smash hits including "Watermelon Crawl", "Ten Rounds with Jose Cuervo", "Lifestyles of the Not So Rich and Famous" and "I'm from the Country".
Jo Dee Messina made her debut in 1996 with the hit track "Heads Carolina, Tails California." She is now known for her energetic and upbeat performances. Messina's music often reflects her life experiences and struggles, and her fans appreciate her authenticity and relatability. She has been honored with numerous awards and nominations throughout her career, including the Academy of Country Music's Top Female Vocalist award. Be sure not to miss the dynamic duo and a perfect summer soundtrack.
---
Saturday, July 22
Tinsley Ellis
Pure Life House of Music
7:30 PM – 9:00 PM
Georgia troubadour Tinsley Ellis has been immersed in music his whole life. Born in Atlanta and raised in southern Florida, he acquired his first guitar at age seven, inspired by seeing The Beatles perform on The Ed Sullivan Show. Like many kids his age, Ellis discovered the blues through the back door of British Invasion bands like The Yardbirds, Cream and The Rolling Stones as well as Southern rockers like The Allman Brothers Band. 20 albums (and millions of miles traveled) later, Ellis has become an elder statesman of the blues world.
---
Friday, July 28
Chris Tomlin
Sweetland Amphitheatre
Gates Open: 6:30 PM | Show Starts: 8:00 PM
Chris Tomlin is a contemporary Christian music singer, songwriter, and worship leader originally from Texas who has sold over 7 million records. He is a member of Passion Conferences and some of his most well-known songs are "How Great Is Our God", "Our God", "Whom Shall I Fear (God of Angel Armies)" and his cover of "Good Good Father".
Tomlin has been awarded 23 GMA Dove Awards, a Grammy Award for Best Contemporary Christian Music Album for his 2012 album And If Our God Is for Us…, and two RIAA certified platinum albums. Because of his songs' popularity in many contemporary churches, Time magazine stated he may be the "most often sung artist anywhere".
---
Friday, August 4
Front Porch Collective
Pure Life House of Music
7:30 PM – 9:00 PM
Hometown music brought to you by our hometown musicians – Callie Hammond on fiddle, Henry Jacobs on guitar, Dylan Norgard on bass, and Nick Mayfield on guitar and mandolin. This will be a special night of music with Nick Mayfield as the opening act playing original tunes and improvising on-the-spot chord progressions with looping and layers that will blow your mind.
We will end the evening with Front Porch Collective. FPC, inspired by Henry Jacobs and a group of talented local musicians, got together in 2015 and just started jamming creating a music haven. This is the time in the show when all good mountain music tunes get flushed out on stage and toe-tapping, hand-clapping goodness is born.
---
Saturday, August 5
Tamela Mann
Sweetland Amphitheatre
Gates Open: 6:30 PM | Show Starts: 8:00 PM
Tamela Mann is a celebrated gospel music singer who started out as a backup singer for gospel artist Kirk Franklin before going solo. Mann's powerful voice and emotional performances are in a category of their own, critically acclaimed across the music industry. With several successful albums under her belt, Mann's music often speaks to themes of faith and hope. Mann has also found success as an actress, appearing in several Tyler Perry productions such as Diary of a Mad Black Woman, Meet the Browns and Madea Goes to Jail. She has been recognized with numerous awards and nominations, including several Dove Awards and a Grammy Award for her Gospel hit "God Provides". An evening at Sweetland Amphitheatre with Tamela Mann is sure to be remembered, and will leave you feeling empowered, inspired and incredibly blessed.
---
Saturday, August 12
Michael Reno Harrell
Pure Life House of Music
7:30 PM – 9:00 PM
One could compare Michael's performances to his granddaddy's pocket knife: well warn and familiar feeling, but razor sharp and with a point. His brand of entertainment appeals to a very diverse audience. Michael's natural knack for storytelling, in print, song and spoken word has earned him praise from not only the music community but from the literary and storytelling worlds as well.
---
Saturday, August 26
Nelly
Sweetland Amphitheatre
Gates Open: 6:30 PM | Show Starts: 8:00 PM
Nelly came to prominence in the early 2000s following the release of his debut album "Country Grammar," which was a commercial success. His most famous songs include hits like "Hot in Herre," "Dilemma" (featuring Kelly Rowland), and "Ride Wit Me". Nelly's music spans various genres, including country, hip hop, R&B, and pop. His style and success have made significant contributions to the rap and hip hop scene. His newest album Heartland charted on Billboard's top ten Country Album Charts and the single "Lil Bit" was certified triple Platinum, firmly cementing Nelly's legacy as an all-time musical icon.
---
Saturday, August 26
Mojo Parker with Guest Grady Clark
Pure Life House of Music
7:30 PM – 9:00 PM
Mojo Parker welcomes you to join him on his musical odyssey. His voice is recognized over the Blue Ridge Mountains, down to the Gulf Coast, and into the heart and soul of Memphis, TN.
As a two-time Semi-Finalist and recent 2020 Finalist of the International Blues Challenge, Mojo is getting recognition and well-received attention for his raw, intimate, and passionate performance style. Blending a soulful sound with a new and refreshed look at old-time classics, you'll be transported back to a time when songs were real-life stories that told the tales of the traveling troubadours of the Blues. Mojo's talents don't just rest in solo acoustic blues and folk music. He has recently created The Mojo Parker Express, an eclectic sound incorporating a groove concoction of funk, rock n roll, soul, and Latin flavors.
---
Friday, September 15
LeAnn Rimes
Sweetland Amphitheatre
Gates Open: 6:30 PM | Show Starts: 8:00 PM
LeAnn Rimes has sold more than 48 million units globally, won two Grammy® Awards; 12 Billboard Music Awards; two World Music Awards; three Academy of Country Music Awards; 2 Country Music Association Awards and one Dove Award. At 14, she won "Best New Artist" making her the youngest solo artist to take home a Grammy® Award, and at 15, she became the first country artist to win "Artist of the Year" at the Billboard Music Awards.
The last couple of years have been quite a resurgence for LeAnn. In 2022, the world-renowned singer had a big year including the release of her 19th album god's work (EverLe Records via Thirty Tigers/The Orchard). The album, which features a roster of accomplished artists including Ziggy Marley, Mickey Guyton, Aloe Blacc, Ben Harper, and more, was listed as #9 on Variety's "The Best Albums of 2022." They said: "You won't find a richer collection of melodic writing on any album released this year, with the twists and turns that maybe only someone capable of all that virtuosic vocalizing could think to take a set of songs into."
---
Sunday, September 17
Ricky Skaggs & Kentucky Thunder
Sweetland Amphitheatre
Gates Open: 5:30 PM | Show Starts: 7:00 PM
Fifteen-time GRAMMY® Award-winner Ricky Skaggs' career is easily among the most significant in recent country music history. If Skaggs' burgeoning trophy case full of awards wasn't already enough evidence of that fact, consider that legendary guitarist Chet Atkins once credited Skaggs with "single-handedly saving country music." His life's path has taken him to various musical genres, from where it all began in bluegrass music, to striking out on new musical journeys, while still leaving his musical roots intact.
In the past decade, he has been honored with inductions into the Gospel Music Association's Gospel Music Hall of Fame and the Musicians Hall of Fame. In 2018, a landmark year, Skaggs was also awarded membership into the National Fiddler Hall of Fame, the IBMA Bluegrass Music Hall of Fame and country music's greatest honor, the Country Music Hall of Fame. Most recently, he was awarded the prestigious National Medal of Arts in 2020 for his contributions to the American music industry.
---