Break up the weekend routine and head to one of Georgia's finest lakes! West Point Lake, located in LaGrange, is notable for its expansive shorelines, active wildlife and abundance of trails and parks. Cozy up around the campfire, stroll the shorelines, strap on your hiking books—it's time to live lakeside on West Point Lake!
Exploring the Lake
---
There's plenty to see from the shores of West Point Lake, but we'd definitely recommend exploring it on the water. Whether you're bringing your own boat, or looking to rent one while enjoying your lakeside vacation, there are plenty of ways to experience this incredible lake.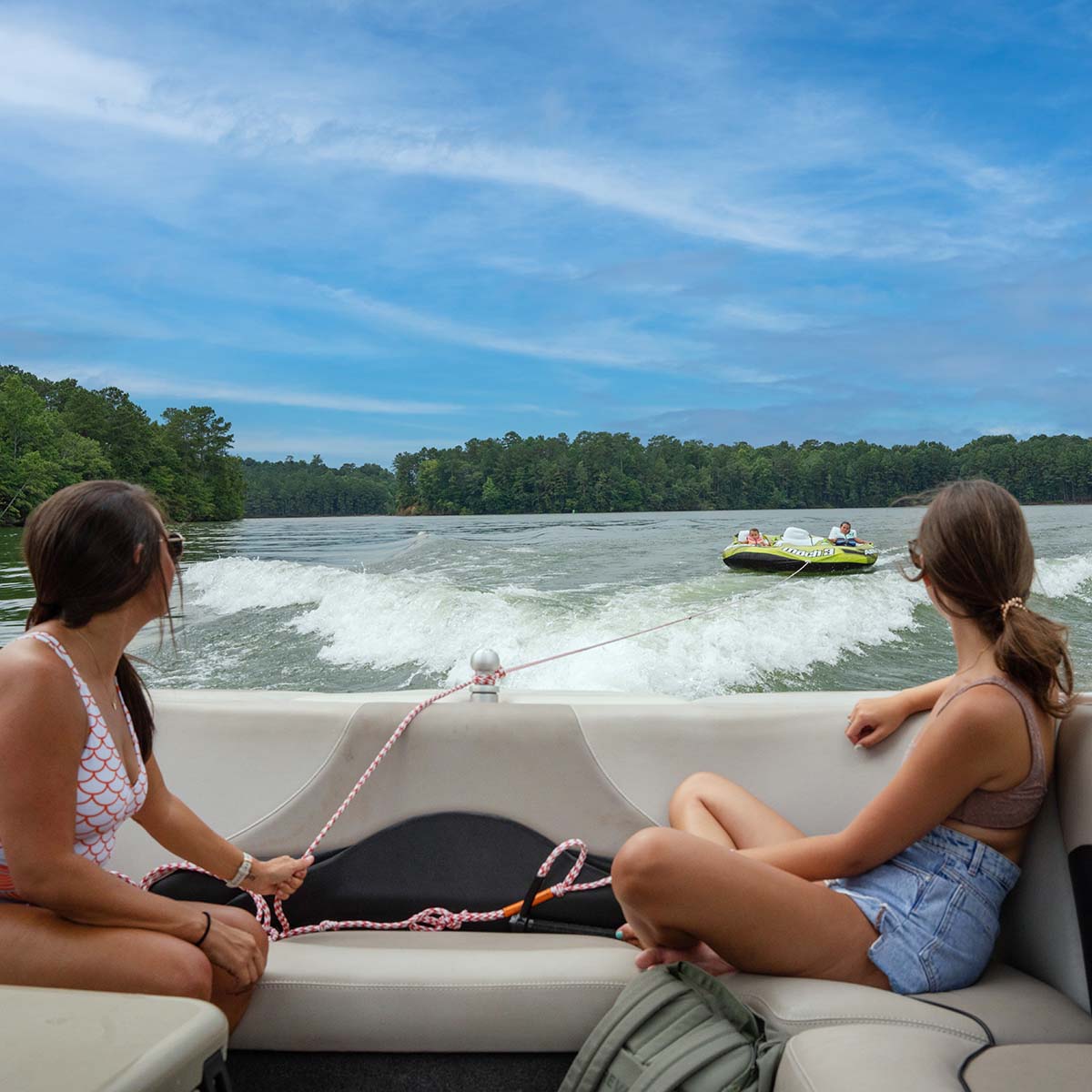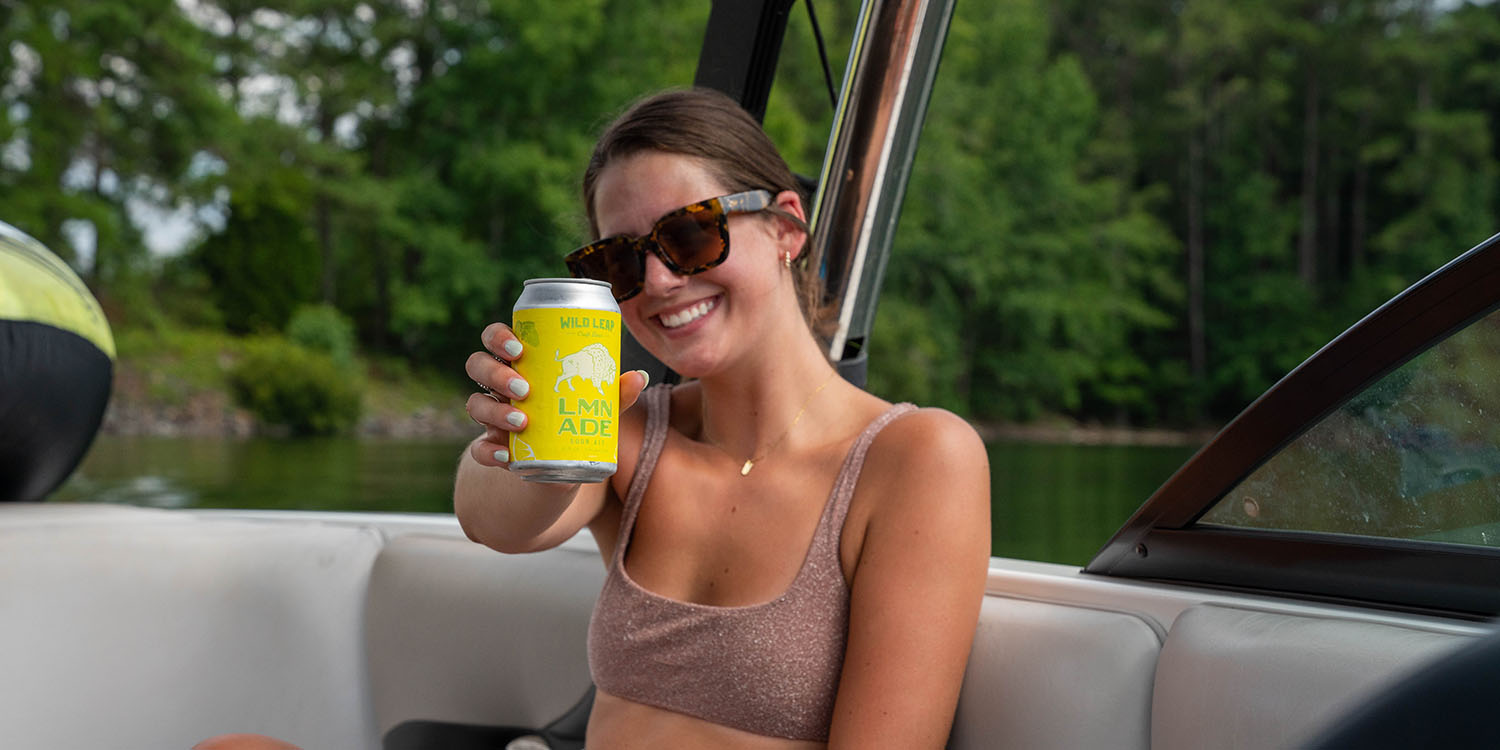 For those bringing their own boats, West Point Lake offers multiple boat launching ramps for easy access to the water, conveniently located in 30 different public recreation areas. Highland Pines Marina also provides facilities for launching your boat safely. Before setting sail, ensure you have all the necessary safety equipment on board and familiarize yourself with state and local boating regulations.
Need to rent a boat? Highland Pines Marina has you covered, along with boat repair, fuel and supplies to keep your boat running smoothly, and you can purchase bait on-site for your fishing excursion. For boat rentals, take your pick from pontoons, fishing boats and kayaks.
Embrace Outdoor Adventures at West Point Lake
---
The first glimpse of West Point Lake is always scenic. Picture focused fishermen; kayakers and paddle boarders; boats followed by tubes and kneeboards! The well-kept shorelines protect over forty square miles of calm waters and dozens of creeks. Teeming with life, the terrain makes West Point Lake one of the Southeast's most sought-after fishing retreats for anglers. Every year, thousands of fishermen travel to West Point Lake on an expedition to capture catfish, stripers, bream—but most notably, largemouth bass and crappie. The 26,000-acre reservoir is home to notable populations of both, with lots of state-record and trophy fish in its history!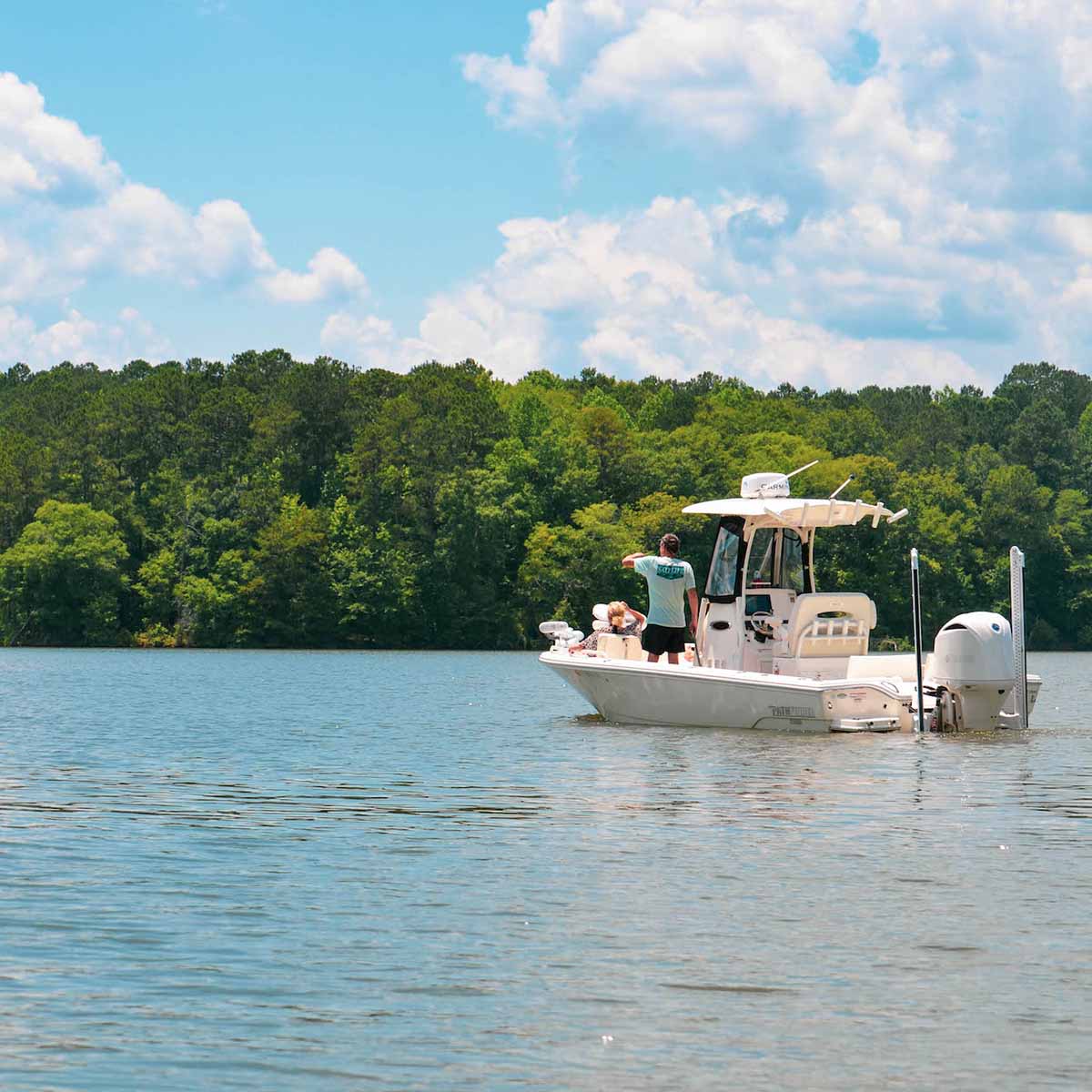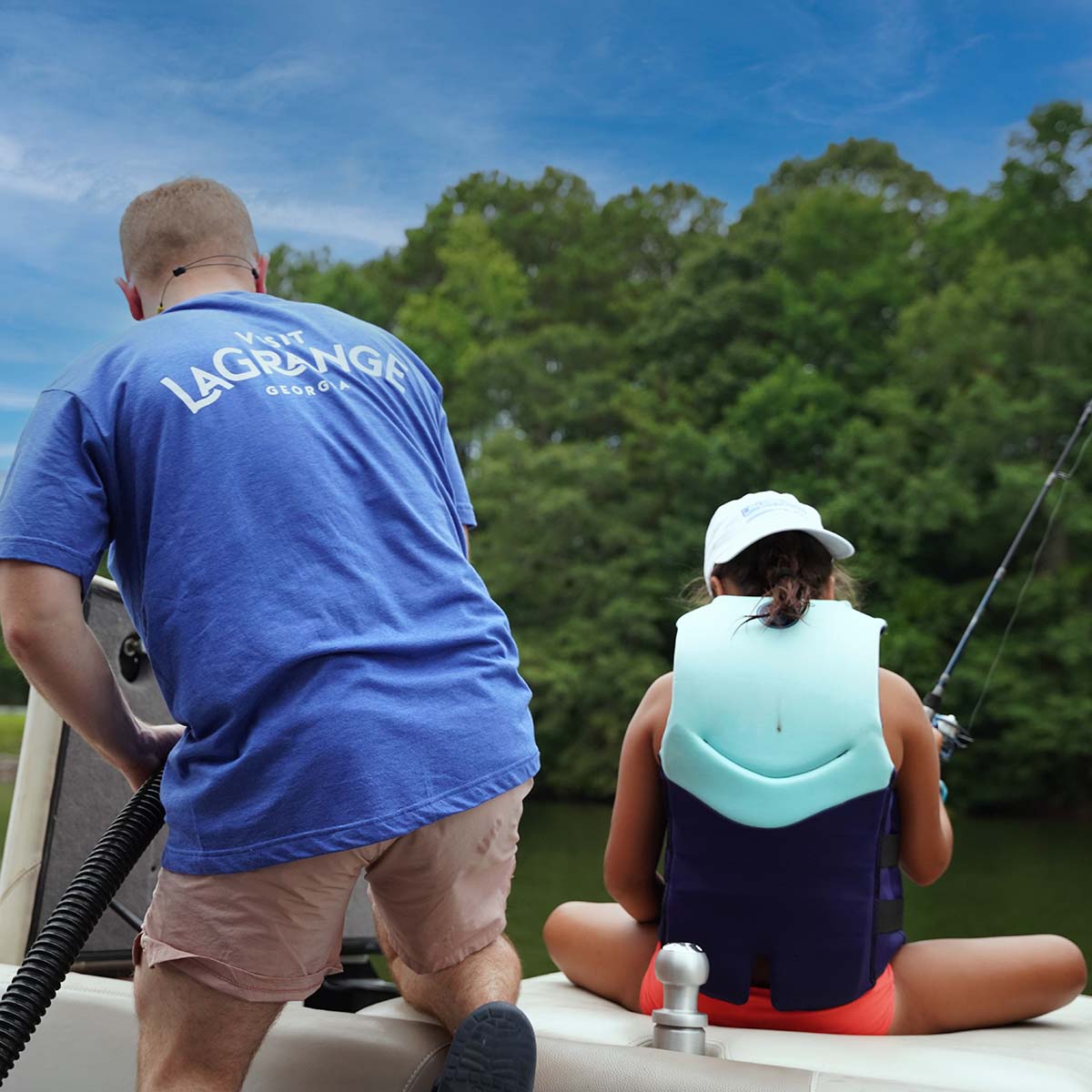 Among its fishing amenities, West Point Lake provides numerous docks, public piers and bank fishing opportunities. Check out our Guide to West Point Lake Fishing for more details, including information on working with local fishing guides! Guides know the ins-and-outs of the lake, helping visitors uncover the lake's fishing spot secrets.
West Point Lake is known around the Southeast for much more than its fishing opportunities. Enthusiasts, professionals, beginners and hobbyists hit the lake year-round to kayak and canoe the calm, open waters. Bring your own gear or rent from Highland Pines Marina and prepare to explore!
Discover Nature's Beauty on the Trail
---
Past the open water, filled with boats, birds and aquatic life, lives a forest alive with wildlife, vegetation, and miles of trails to explore. Try to catch a glimpse of the lake's numerous osprey or vibrant flora, and take a minute or two to smell the honeysuckle. You may even see a family of deer grazing about the land—all tucked away along the trails of West Point Lake!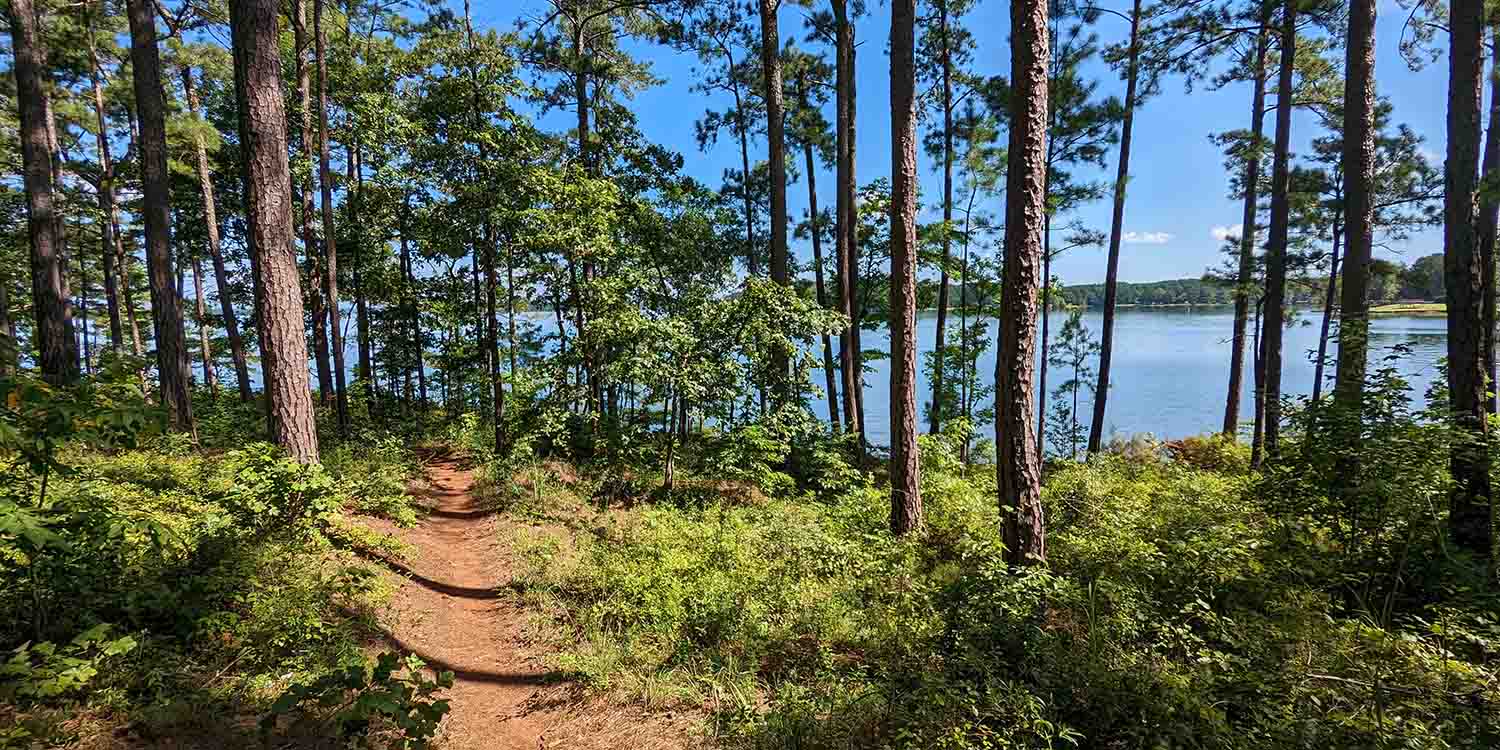 Surrounding the lake's vast shoreline are countless hiking trails and opportunities. Below are some of the most popular!
Lakeside Trail (6.4 Miles; Difficulty Level Moderate)
Lakeside Trail is a multi-trail loop that weaves through West Point Lake's surrounding forest and along its shoreline. The loop covers over eleven miles of terrain with densely-wooded stints of trail juxtaposed by panoramic lakeside scenes. Well-marked, the trail is used by beginner, intermediate and advanced hikers, as well as many mountain bikers! The main trailhead for Lakeside Trails is located in R. Shaefer Heard Campground.
The entire loop, without side quests down other trails, generally takes a little over two hours to complete; however, plenty of bailout points are marked along the way for shorter treks. Dogs on a leash are permitted!
West Point Lakeside Loop (0.9 Miles; Difficulty Level Easy)
West Point Lakeside Loop is a great trail for beginner hikers, birdwatchers, or just a casual lakeside hike! Depending on your pace, the hike averages around twenty minutes from start to finish, and takes place openly alongside the lake, however secluded areas and fishing stops pop up along the way. The terrain is mostly flat with only a 75 foot elevation, which makes glancing around for birdwatching and wildlife spotting much safer and easier!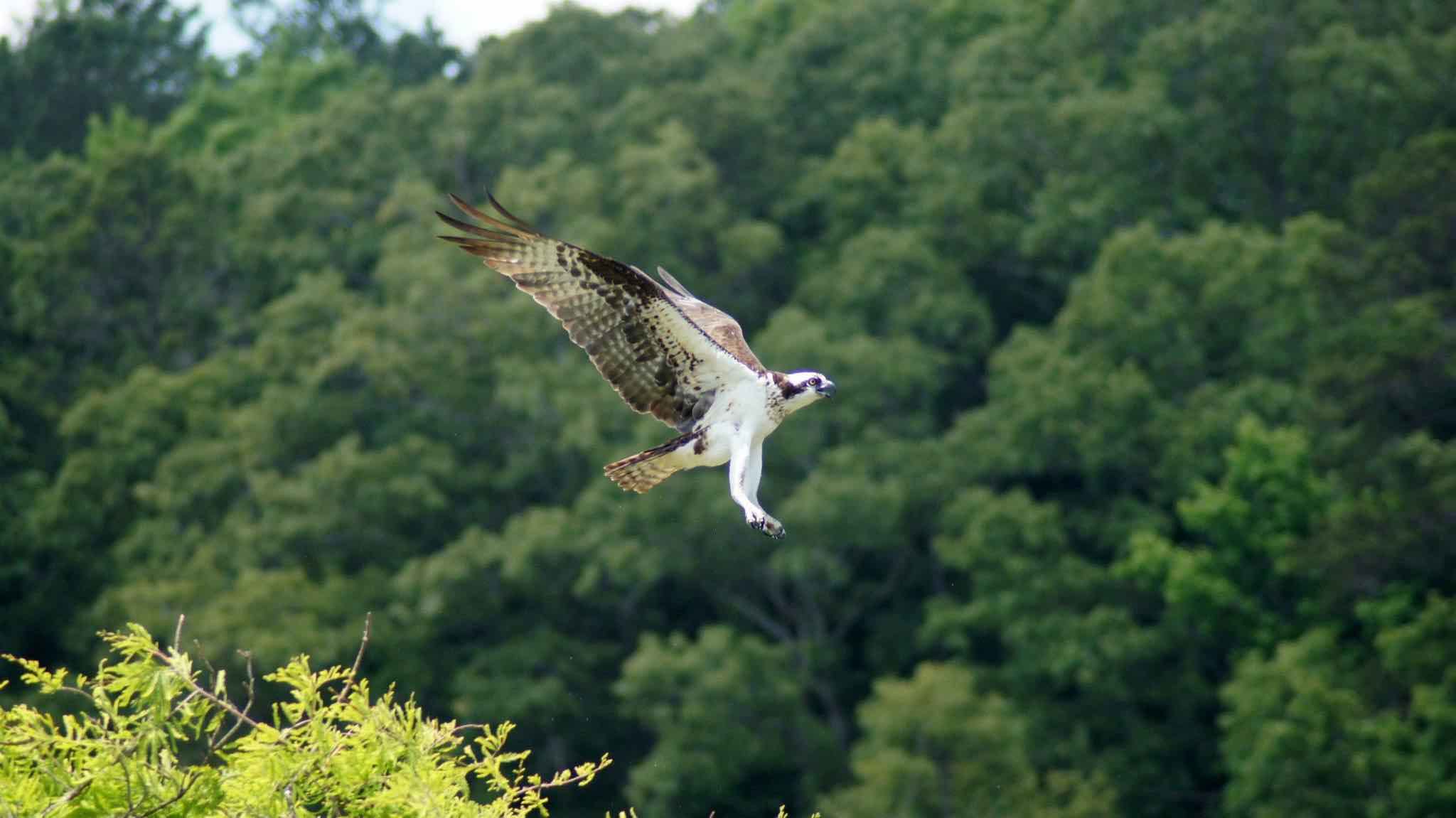 West Point Lakeside Loop is a side-trail off West Point Lakeside Trails. The trailhead is located near a parking lot with adequate free parking. Dogs are allowed, but must remain on a leash!
Pyne Road Park Trails
Recently regraded and marked, the trails at Pyne Road Park are unique because of the various ways to explore them! Designed specifically for mountain biking and equestrian, hikers also flock to the trails at Pyne Road Park for the beauty and serenity of the area. More nature trails are planned for the upcoming Oakfuskee Conservation Center, located on the other side of Roanoke Road.
Bonus Tip: A great resource for hikers is AllTrails! Check it out for basic trail information as well as photos, conditions and reviews from other hikers! TrailForks is a great resource for mountain biking, and those interested can also find various Facebook groups and organizations dedicated to the sport who can offer more insights.
Where to Stay
---
Highland Pines Resort & Marina
Highland Pines Resort & Marina hugs along a beautiful slice of West Point Lake's 525-mile shoreline, providing premier lake-side experiences, stunning views and top-tier amenities. The resort supplies an abundance of quality options for on-the-water rentals and over-night shoreline stays.
For adventurous travelers looking for a traditional camping experience, a place to set up the RV, or even those who want to give glamping a try – Highland Pines Resort & Marina has you covered. No matter your chosen camping style, every visitor has access to fire-pits, picnic tables, trails and the idyllic shorelines of West Point Lake!

The less-rugged lodging options at Highland Pines include cottages, cabins and chalets. The spacious chalets feature an open-layout with vaulted ceilings, an inviting southern porch and spellbinding views of West Point Lake. Cabins and cottages, perfect for slightly smaller parties, feature a kitchenette, grill and all the amenities you'd expect from a hotel, only cozier!
Additionally, Highland Pines supplies docking and refill stations, an on-the-lake dining experience, one-stop lake shop, a fully-accessible sand beach, forest trails and more.
Short-term Rental Homes
One of the best ways to unwind lakeside, and certainly one of the easiest ways to find serenity, is by renting a lake house for the family to enjoy. There are a few notable short-term rental homes available on the water, some of which even come with private docking! The spacious homes that line the waters edge are often perfectly placed for a sunset view, and some are even stocked with extra goodies for a weekend out on the water. Our team has found a few of these homes, but there are more to discover on platforms like Airbnb and VRBO.
West Point Lake Parks
The beautiful ecosystem of West Point Lake can also serve as an excellent place to rest your head. Pitch your tent or park the RV at one of the many parks around the lake, and take in the sights and sounds of nature. Whitetail Ridge, Holiday, Pyne Road and R. Shaefer Heard parks all feature overnight camping and spectacular views of the lake.
---
Only an hour south of Atlanta, West Point Lake is a refreshing escape from the daily hustle and bustle of life. Sunbathe on the shorelines, roast s'mores over the campfire, or spend the day kayaking and fishing on the water before cozying up beneath the stars. Reset and unwind, take inspiration from nature's beauty and create memories to last a lifetime.