Springtime in LaGrange is blooming with fantastic activities! From supporting local artists and makers to a Blue Collar Comedy show, the last weekend in April is looking like one of the most exciting weekends of the year. Here's a glimpse at some of the events happening in LaGrange the weekend of April 29th! We hope to see you around town, at Wild Leap, or Charlie Joseph's.
Thursday, April 27 – Friday, April 28: Food for Thought
On April 27th and 28th The Young Singers of West Georgia present: Food for Thought, a fantastic night of entertainment with quality singing and choreography, live professional accompaniment, lighting, and more. Food for Thought features 85+ singers ages 8-18 who will put a creative spin on the subject of food.

One section, 'Farm to Table', incorporates clever and uplifting music from the garden, the beginning source of much of our food. The 'Sweets' section showcases upbeat and well-known Broadway tunes. The show takes a more serious tone in the 'Food for Thought' section where we approach subjects such as hunger and war along with other uplifting and moving pieces such as a Shakespeare text "If Music Be the Food of Love".
Tickets can be purchased from the LSPA website and this performance is sure to leave patrons with a smile!
Friday, April 28th: Enjoy Live Music at Nutwood Winery
Nutwood Winery is known for its delicious wines and beautiful outdoor space, which is perfect for a relaxing evening with friends. The winery is located just outside of downtown LaGrange and is a must-visit destination for wine lovers. Nutwood features local performers in their tasting room on the weekends, the ideal pairing to any of their delicious wines.

With fruitier whites like Silas Green Apple, Jolene White Muscadine and Nutwood Peach, and more bodied reds like Liechty's Cabernet Franc, Patricia's Pinot Noir and Neil's Malbec, the wine selections at Nutwood couldn't be more impressive.

After you enjoy a glass or two, check out some of the amazing restaurants found in downtown LaGrange, all within walking distance of the Courtyard Marriott.
Saturday, April 29
Saturday from 11 AM – 4 PM, enjoy The Spring Artisan Market on Ridley Avenue! A must-visit for lovers of arts and crafts, the event will feature local artisans and makers selling their unique and beautiful creations. From handmade jewelry to pottery and paintings, there will be opportunities for visitors of all ages to find a piece that speaks to them! The market is free to attend and is a great opportunity to support local artists and makers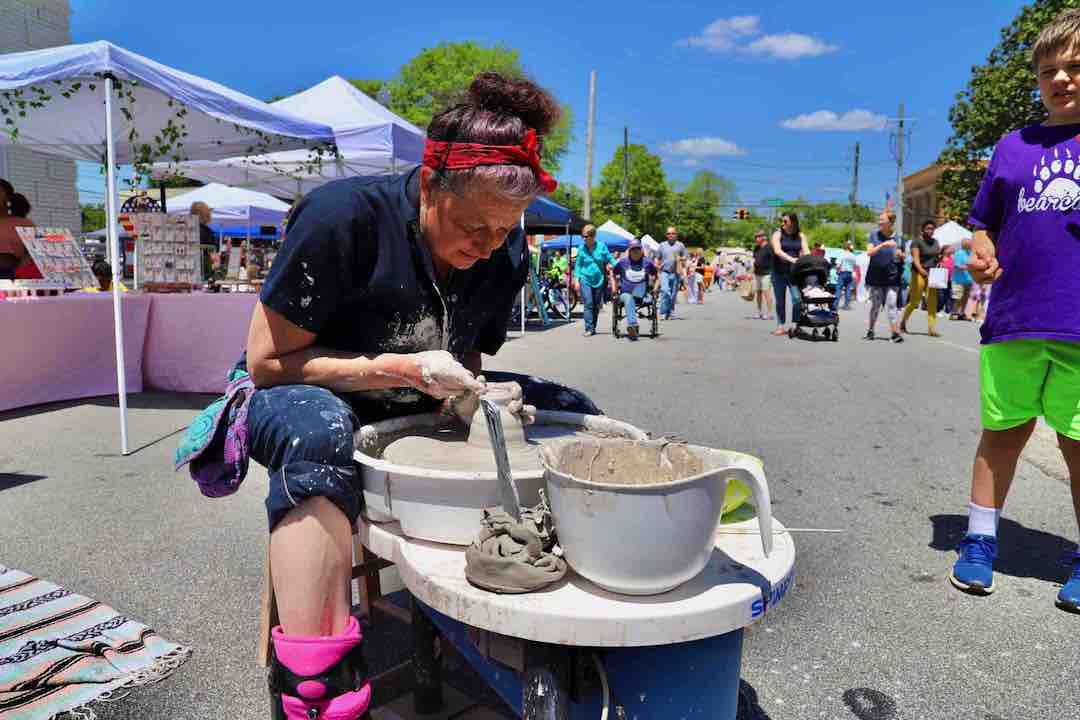 Saturday evening, make your way to Sweetland Amphitheatre for a star-studded night of laughter and 'Blue Collar' comedy! Harris County resident and noted comedian Jeff Foxworthy is set to bring the laughs to LaGrange with his comedy tour, dubbed "The Good Old Days Tour". Foxworthy is one of the most successful comedians in the industry, having released six comedy albums that have sold more than 13 million copies. His comedy tour is a must-see event for anyone who loves to laugh. Sweetland Amphitheatre is a beautiful outdoor venue that provides the perfect setting for a night of comedy. Tickets are on sale now and can be purchased at the link below.
After enjoying Jeff Foxworthy, stop by Wild Leap Brew Co. for some live music at "Saturday Night Alive". Wild Leap Brew Co is known nationally for its award-winning craft beer and is a must-visit destination for beer lovers. The brewery's outdoor space is perfect for a night out with friends and family. The last Saturday of each month, dubbed "Saturday Night Alive", is set aside for a free concert from a regional act. Food trucks, award-winning craft beers, signature cocktails and great memories await at Wild Leap. Find out why Beer Connoisseur named Wild Leap its "Brewery of the Year" for 2021 on your next visit to LaGrange!
In addition to these events, LaGrange has plenty of other things to see and do. Take a stroll through downtown and check out the local shops and restaurants. Visit Hills and Dales Estate, a stunning property that features beautiful gardens and a historic mansion. The LaGrange Art Museum is another must-visit destination for art lovers, if you enjoyed the Artisan Market. The free museum features rotating exhibits and a permanent collection of works by regional and national artists like Picasso, Dali and Lamar Dodd!