West Point Lakeside Trails
Enjoy the wildlife and spectacular lake views on West Point Lakeside Trails, an eleven-mile loop trail on LaGrange's West Point Lake. The trail features sections of lakeside forest, beautiful views of the lake, and opportunities to see many types of wildlife. The trail is relatively flat, appropriate for any fitness level, well-groomed, and posted with clear signage. Leashed dogs are welcome, so bring your furry friend for the hike!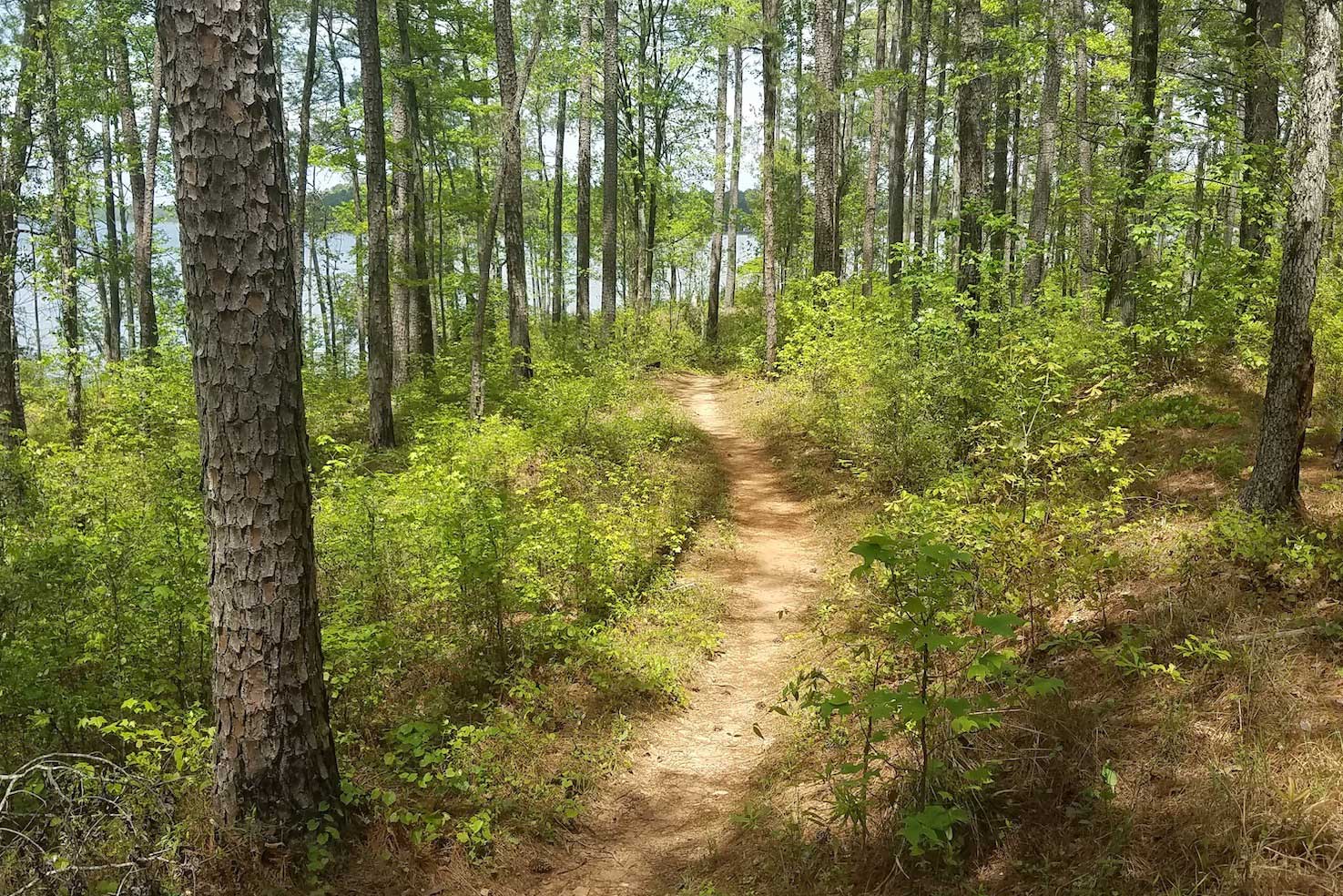 Pine Mountain Trail at F.D. Roosevelt State Park
F.D. Roosevelt is Georgia's largest state park, and its 9,049 acres include more than 40 miles of hiking trails. The trails in this nearby state park showcase forests, rolling hills, creeks, small waterfalls, rock formations, and a variety of other terrains and features.
The main Pine Mountain Trail is 23 miles long, with side trails and loop connections creating 40 miles of trail perfect for creating whatever distance hike you choose. Purchase a hiking map from the Park Information Center to plan your hike. There are seven loops along the Pine Mountain Trail, all of which are excellent day hikes:
Dowdell's Knob Trail
Franklin D. Roosevelt liked to picnic at Dowdell's Knob! This 4.3-mile long trail is known for wildflowers and songbirds. It is rated moderate difficulty.
Mountain Creek Nature Trail
This 3.2-mile long loop starts behind the Trading Post and winds through a mixed oak-pine forest along the headwaters of Mountain Creek. This trail is not strenuous and is appropriate for all skill levels.
Wolfden Loop
Wolfden is a 6.7-mile loop that is known as one of the most beautiful hiking trails in all of Georgia. It's the most popular section of trail in the park!
Longleaf Loop
A 6.9-mile loop, Longleaf Loop has more trail connections than our other trails and a total of seven road crossings, so it's imperative to hike with a map!
Big Poplar Loop
At 7.8 miles, Big Poplar is the longest loop and another favorite of local hikers. Named for a large poplar tree around the 10-mile marker, this hike has several rock formations and creeks to cross.
Overlook Loop
Overlook's 3.4-mile loop is the newest in the trail system. One of the loop's entry points is at the Gardens Overlook on Hwy 190.
East End Loop
The newest loop of the Pine Mountain Trail, this easy 3.4 mile loop is perfect for beginners or families.
Don't forget to buy your trail map from the FDR State Park Information Center so that you can safely navigate this large trail system!
City Hiking at The Thread and Tower Trail
The Thread, LaGrange's new multi-use trail system, is an excellent way to see LaGrange while you walk. The current 5+ miles of trail wind around Granger Park, through beautiful LaGrange College Campus, and past historic LaGrange homes. Bring your family and dogs to explore LaGrange from The Thread!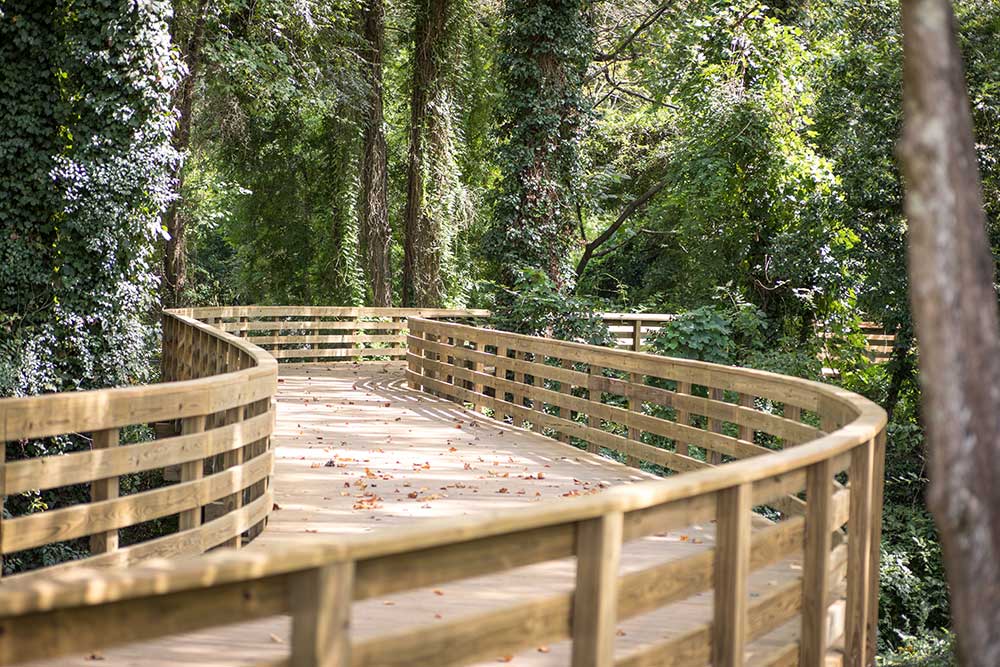 The Tower Trail is located just behind Hogansville Elementary and features the Hogansville Water Tower. The tower was built for the Hines Cannery in 1916 and was part of Hogansville's first water system. Tower trail is the perfect place to enjoy beautiful outdoor Georgia as you explore a piece of Hogansville history!

Whether you're a backpacker, day hiker, or city walker, we have hiking trails to bring you back to nature and escape the hustle and bustle of city life.
The scenic Georgia hills and forests await you… plan your hike today!