Among our numerous activities and attractions, LaGrange is known for an abundance of cycling routes on which riders can test their endurance, take in some beautiful scenery or simply enjoy the sights, sounds and local history of the city. Whether you're a new rider, a long-time cyclist or fall somewhere in between, we've got a path for you. Take a look at some great options for cyclists below!
Casual Cruising
---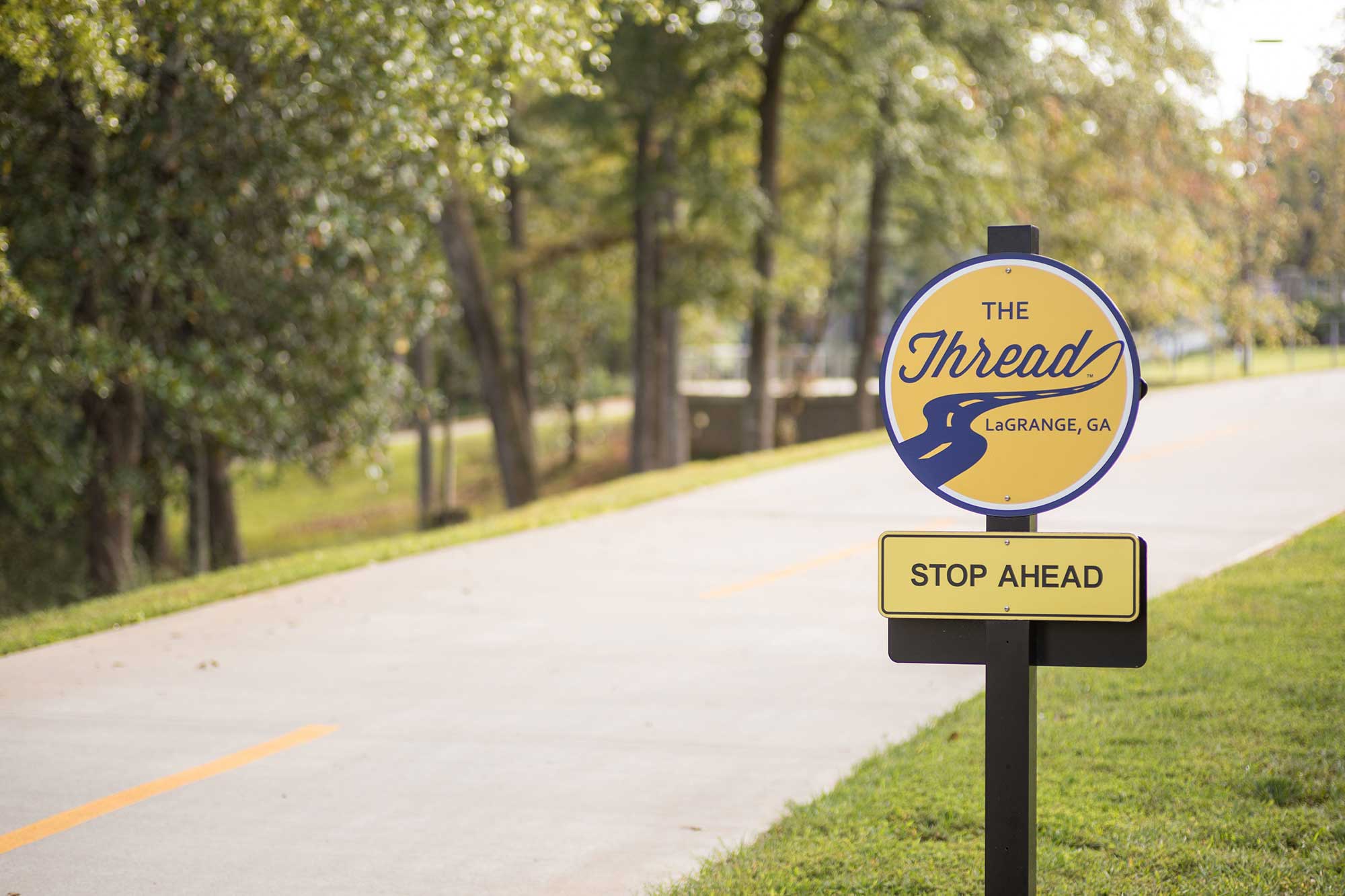 The Thread Trail
The Thread is a 12-foot wide, beautifully maintained pathway that weaves through many of the wonderful parks and neighborhoods of LaGrange. Featuring art sculptures, boardwalks, water fountains and scenic area views, this route is excellent for cyclists of all abilities looking for a relatively easy recreational ride that stays close to downtown.
Fun fact: The Thread was traversed by riders participating in the popular Bicycle Ride Across Georgia (BRAG) event, and LaGrange was an overnight destination for the cross-state tour!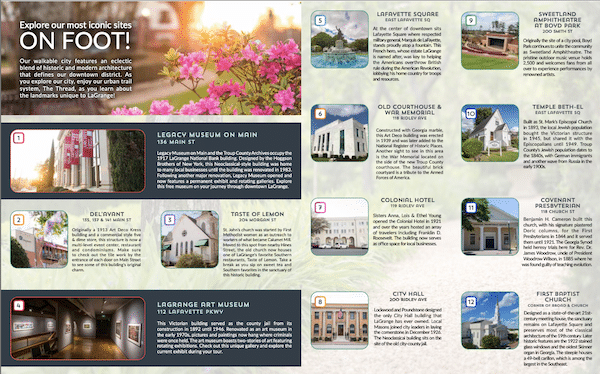 Downtown Tour of Historic LaGrange
Love cycling and history? If so, you may want to consider taking our downtown tour of historic LaGrange by bike! This route, which actually follows The Thread, is highlighted by historical homes and buildings that provide an excellent look into the evolution of our city—from its founding in 1828 to the melding of the past and present that's apparent in the architecture and infrastructure of today.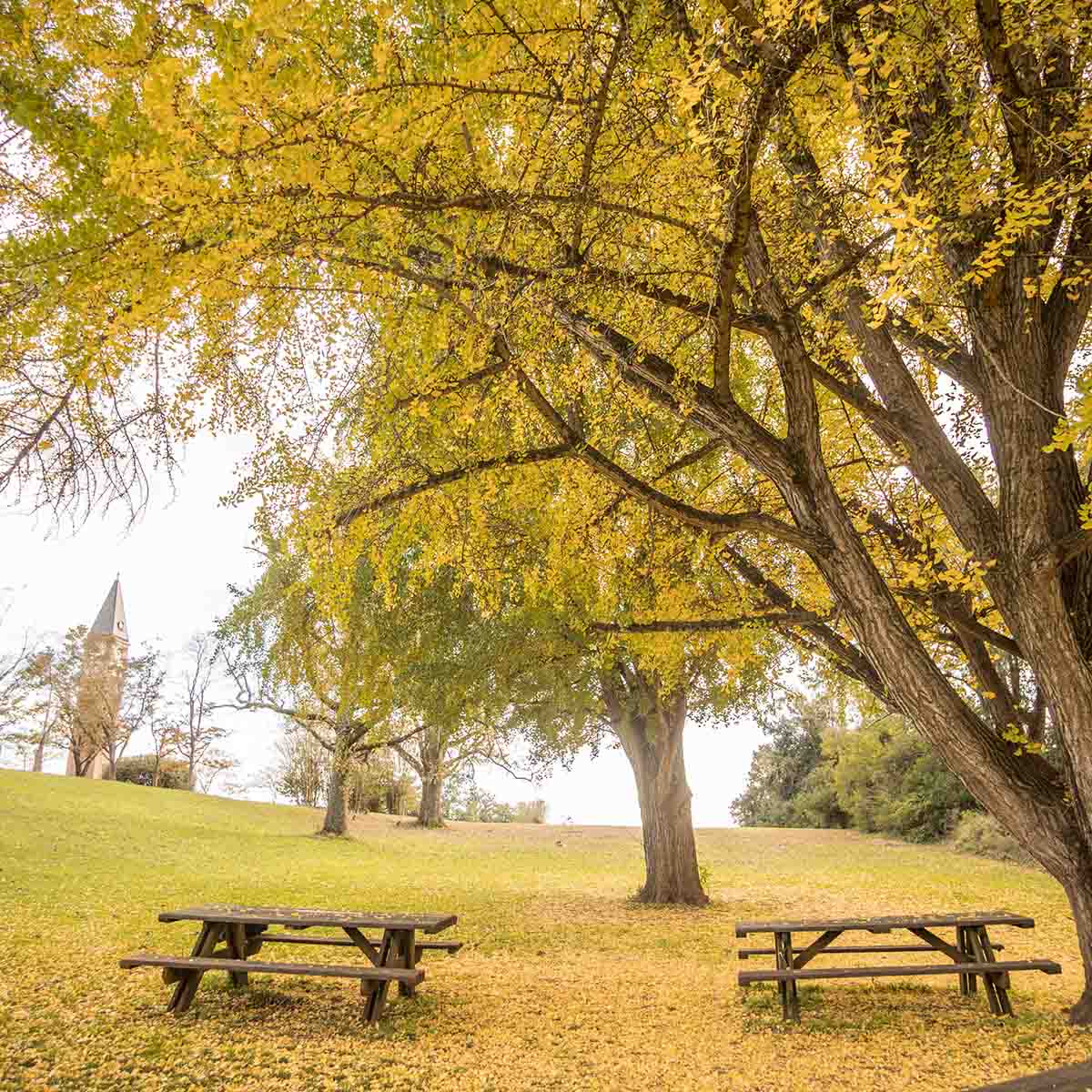 Hills & Dales Farm Loop
The Hills & Dales Farm Loop is perfect for cyclists who want to experience the sights and sounds of our city while also getting a taste of the surrounding area. Beginning and ending downtown, this 10-mile loop travels through the city center and residential neighborhoods before breaking free into old farm and timber country for quiet serenity and beautiful landscape views. Before returning downtown, you'll also pedal through LaGrange's Historic Hillside, which is rich in our city's textile heritage.
Moderate Mileage
---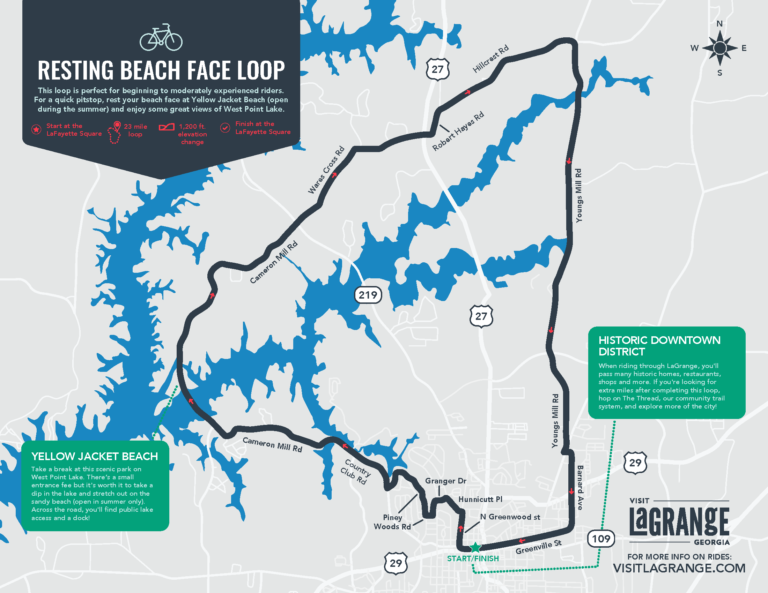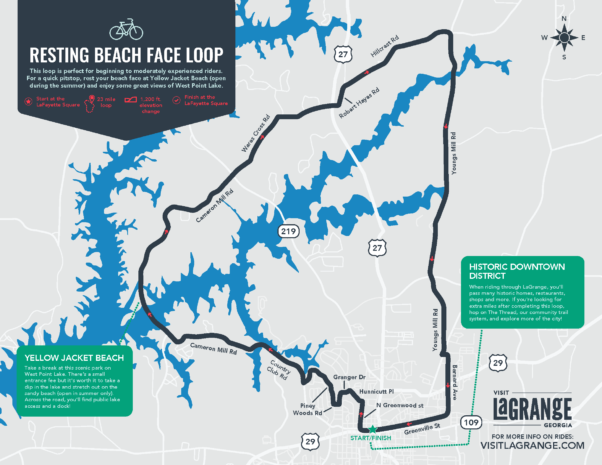 Resting Beach Face Loop
An excellent option for beginner to intermediate cyclists looking for more than a ride around town, the Resting Beach Face Loop extends beyond LaGrange and features gorgeous views of West Point Lake and the surrounding countryside. The trek is 23 miles in total and changes 1,200 feet in elevation.
Pro tip: In the summer, a key highlight of this loop is the opportunity to take a breather at Yellow Jacket Beach, which is an amazing spot to cool down in the water and/or rest on the sandy beach.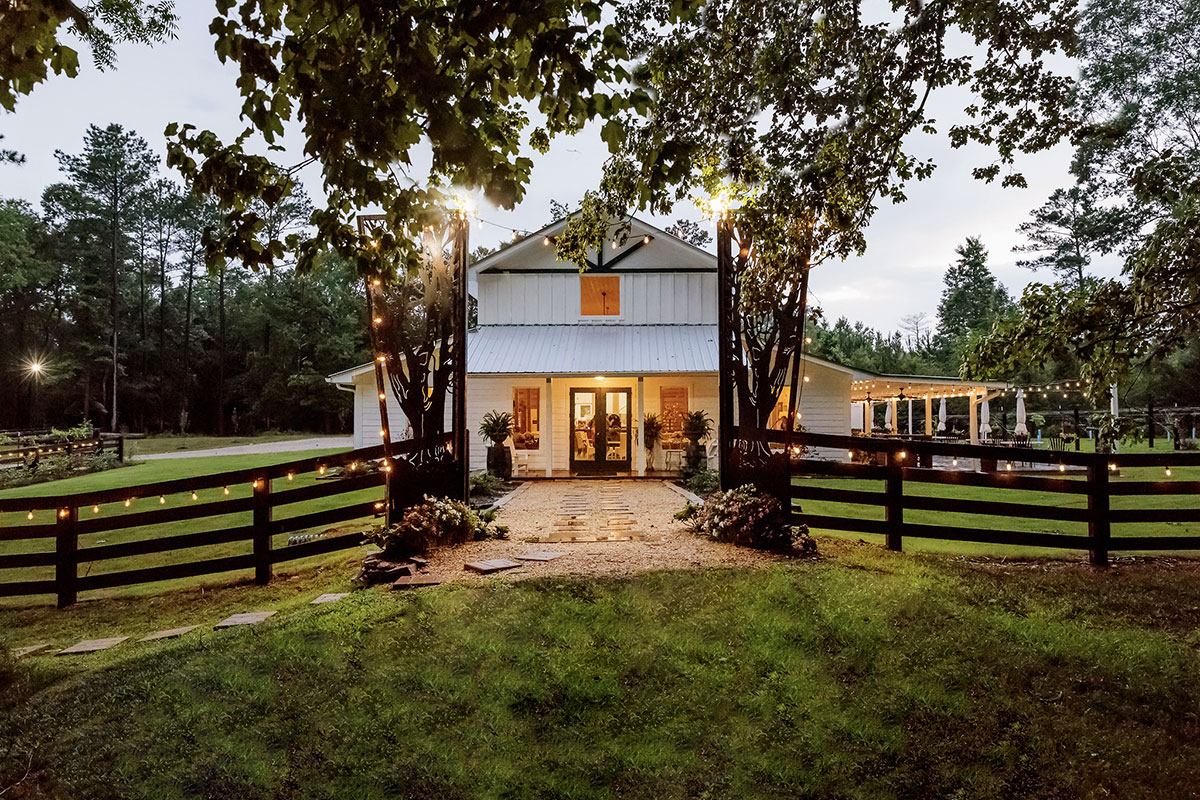 Wine & Dine-Osaur Loop
Like the sound of the Resting Beach Face Loop but want something a bit longer? The Wine & Dine-Osaur Loop has you covered. This 45-mile route covers the countryside and lakeside views of the Resting Beach Face Loop with the addition of highlights such as downtown Hogansville, a quirky dinosaur display, downtown Mountville and Nutwood Winery—the latter of which can be a great place to cool off and refuel after reaching peak elevation at Mountville.
Tricky Terrain
---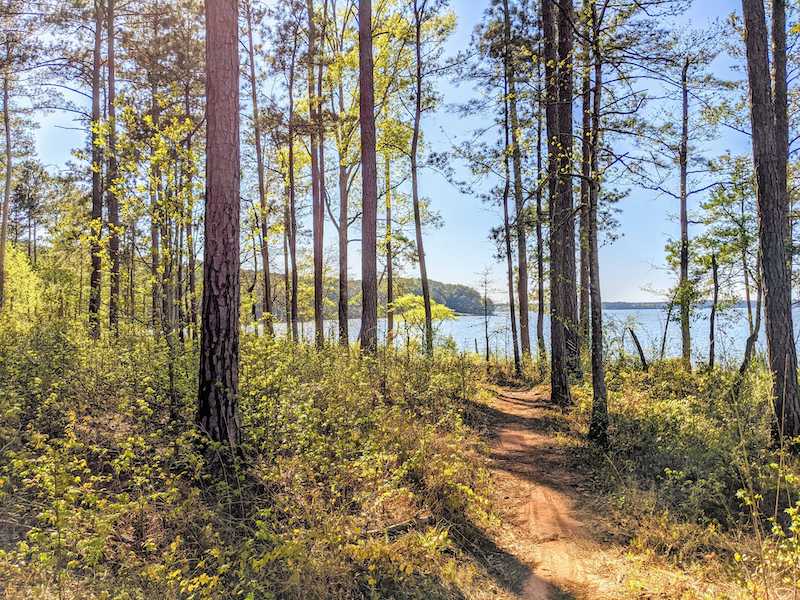 Lakeside Trails
Lakeside Trails span 11 miles of fairly rugged ground near the shores of West Point Lake. Great for intermediate to experienced cyclists, these paths include exposed roots, sharp turns and various other obstacles you'd expect on a mountain biking excursion—particularly the further out you venture. Regardless of the exact trail you choose, you can expect to find lovely views of the lake, natural beauty and an overall sense of adventure.

*[Sections of various Lakeside Trails may be occasionally closed due to weather damage, area maintenance and/or other reasons. Please check with the U.S. Army Corps of Engineers, West Point Lake for the most up-to-date information on current conditions.]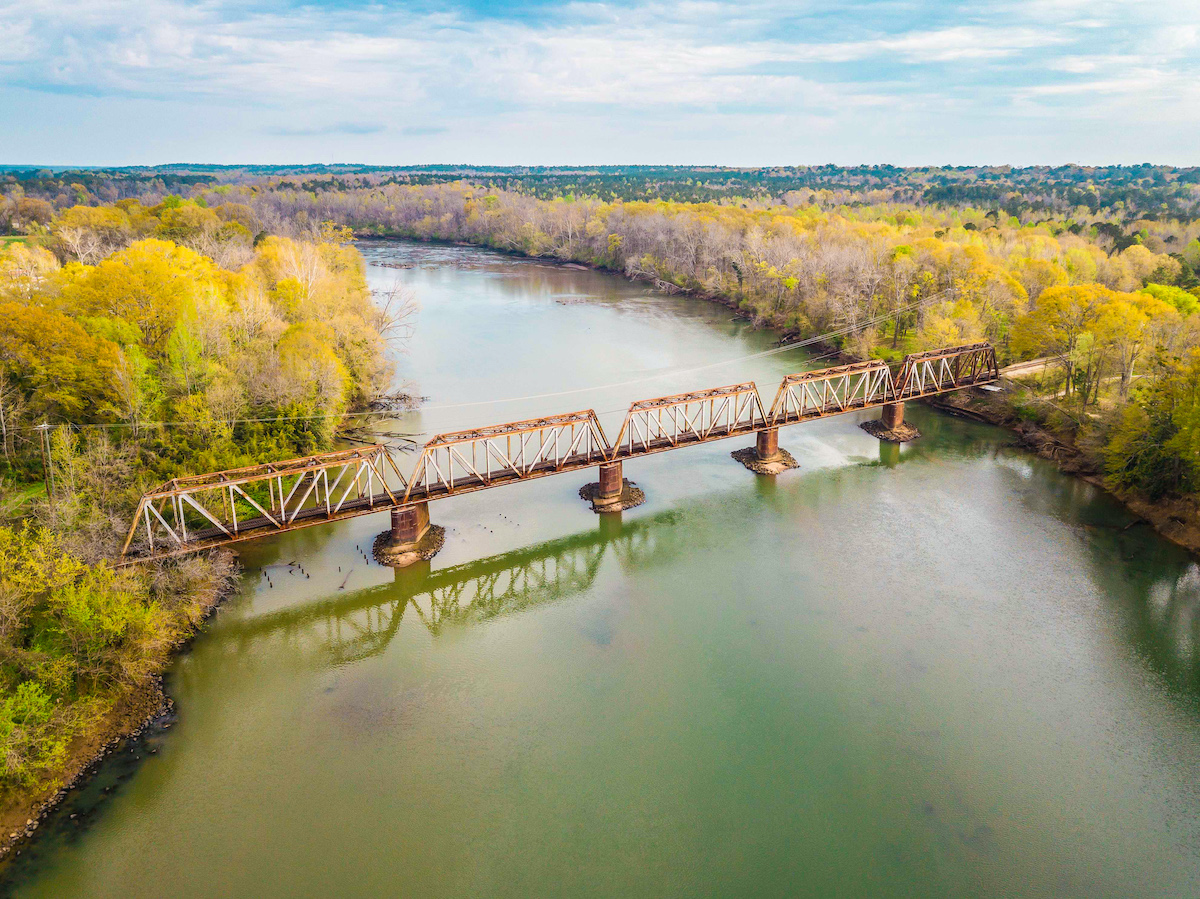 West Point River Park Trail
Totaling just under three miles in distance, the West Point River Park Trail is an excellent option for riders of all skill levels seeking an off-road trek. Winding through the woods right outside of nearby downtown West Point, this route follows alongside the Chattahoochee River, offering serene sights and sounds of the historic body of water with little elevation change.
Pro tip: The trail has few markings, so it's best to bring (or take a picture of) the map before embarking.
Prolonged Pedals
---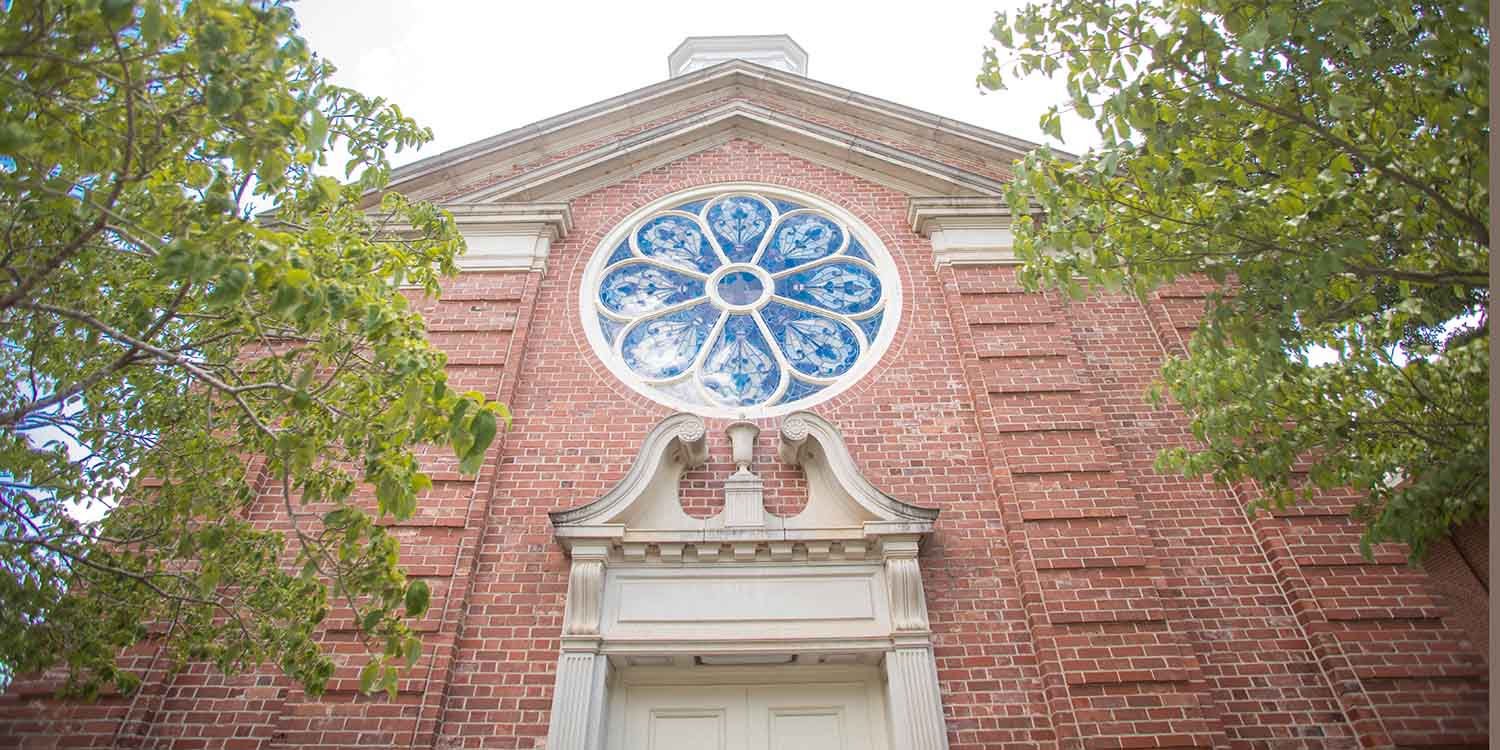 Panthers on the Prowl Loop
Feeling up for a long-distance challenge? Starting and finishing in downtown LaGrange, the Panthers on the Prowl Loop is a 70-mile route featuring lake crossings, picturesque backroads, old farm and timber land and a total change in elevation of 4,000 feet. Along the way, you'll also get to enjoy the historic downtowns of Hogansville and Mountville, as well as the oldest private college in the state of Georgia—LaGrange College (home of the Panthers!).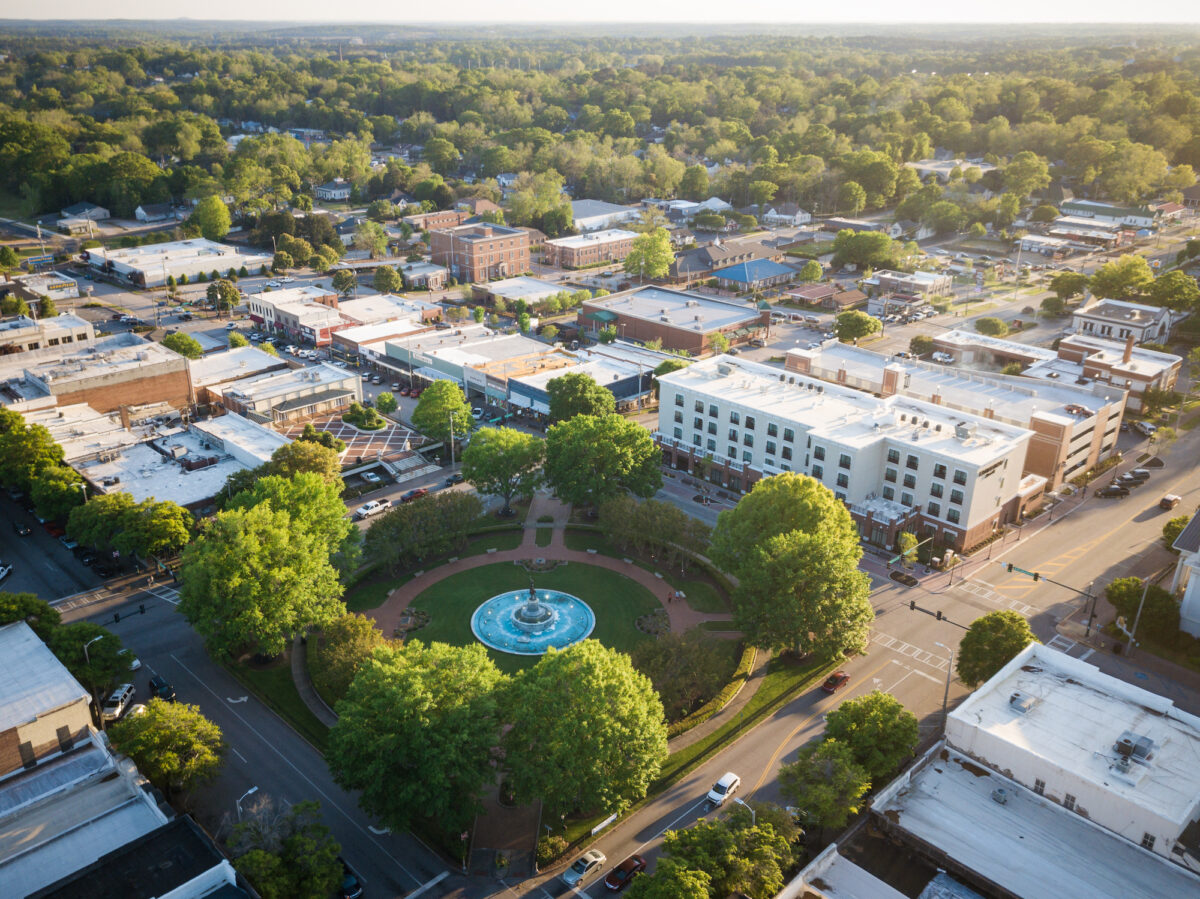 Four Cities Century Loop
Ready to join the century ride club? You can do it right here! The Four Cities Century Loop is a 100-mile—well, technically a 103-mile—trek that begins in downtown LaGrange and includes passages through Hogansville, Mountville and West Point before returning to our city center (hence the "Four Cities" moniker). In addition to scenic roads and beautiful country landscapes, you'll get to enjoy multiple lake and river crossings, views of West Point Dam and the gigantic Kia Motors manufacturing facility, numerous historic sites and, of course, a tremendous sense of accomplishment upon completion.
Need A Bike? Supplies? Cycling Buddies?
---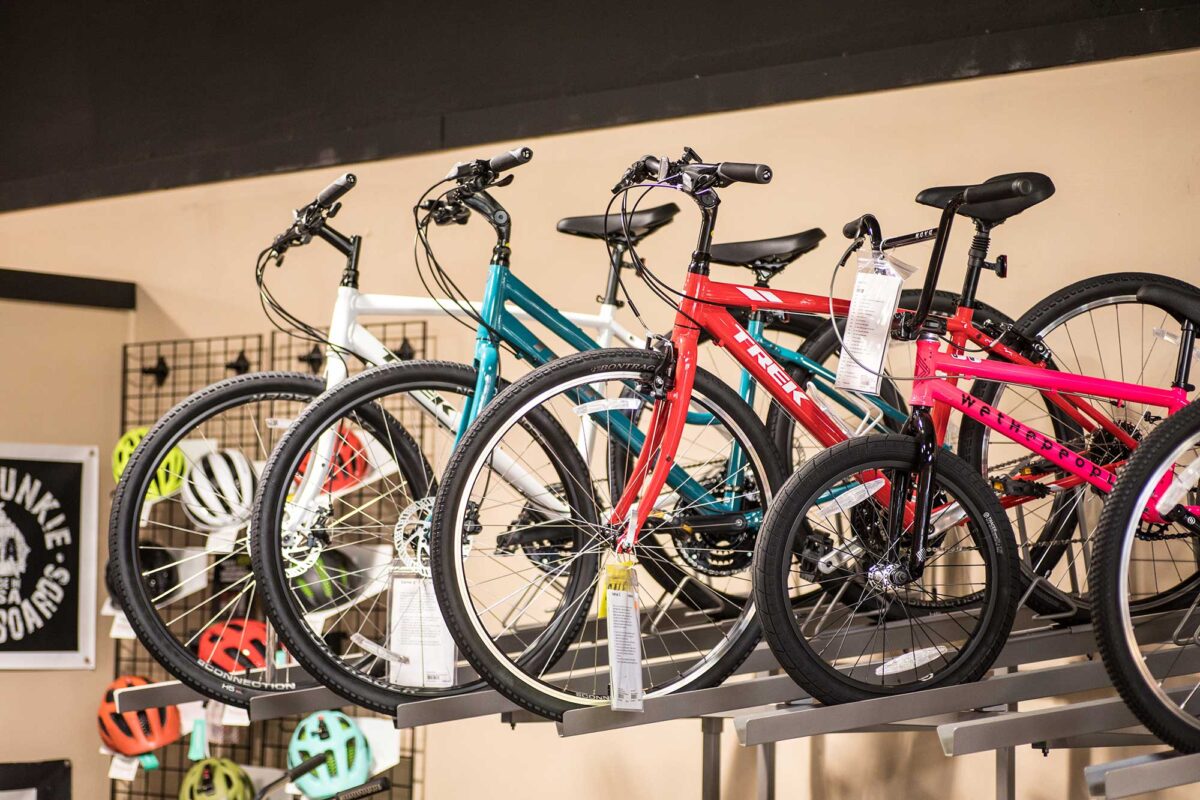 Goldens Bike Shop
For all your cycling needs, we recommend visiting Goldens Bike Shop located on E. Lafayette Square in downtown LaGrange. Here you'll find a variety of bicycles, safety gear and all types of accessories along with a friendly and knowledgeable staff that is passionate about sharing the joy of riding with everyone who enters the store. Goldens Bike Shop also hosts numerous group rides and cycling events with varying distances, intensities and terrains—so be sure to ask about upcoming meetups if you're interested in riding with a pack!