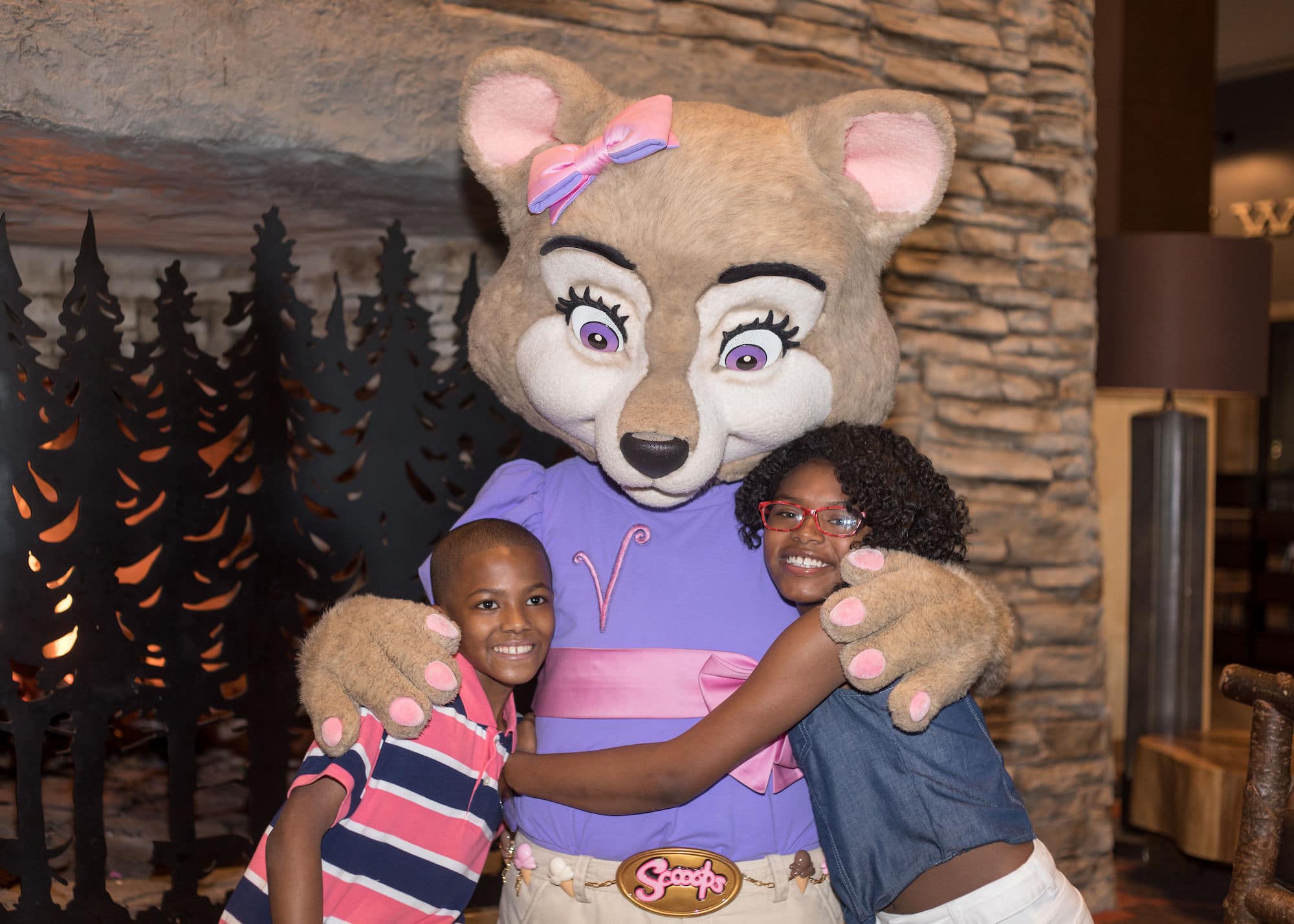 Checking In
For a howling good time with the family, Great Wolf Lodge in LaGrange, Georgia delivers! The fun actually starts at check-in. Seriously. Usually kids grow bored while the adults are checking in but the impressive lobby is chock full of things for kids to do. No matter what time it is, free activities await your pack. One thing you're sure to notice is that the staff really goes out of their way to make your stay the best it can be. They're about helping you create great memories with your family.
There are sure to be characters hanging out or maybe the marvelous mural will engage your kids in adventure as the Northwoods Friends Show plays. Other lobby activities include Yoga Tails, the Hustle & Howl dance party and the popular storytime, where kids gather in their pajamas to hear bedtime stories. You'll all get wristbands, which will act as a convenient room key and a contactless way to pay for items around the resort.
The rooms have a lodge feel to them and were designed with families in mind. Most have two queen beds and a pullout sofa to accommodate your crew. If you want to take your stay to the next level, try one of the unique theme rooms. The Wolf Den suites have a cave theme and the KidCabin suites have a log cabin look with either twin beds or bunk beds. Some of them can sleep up to 13!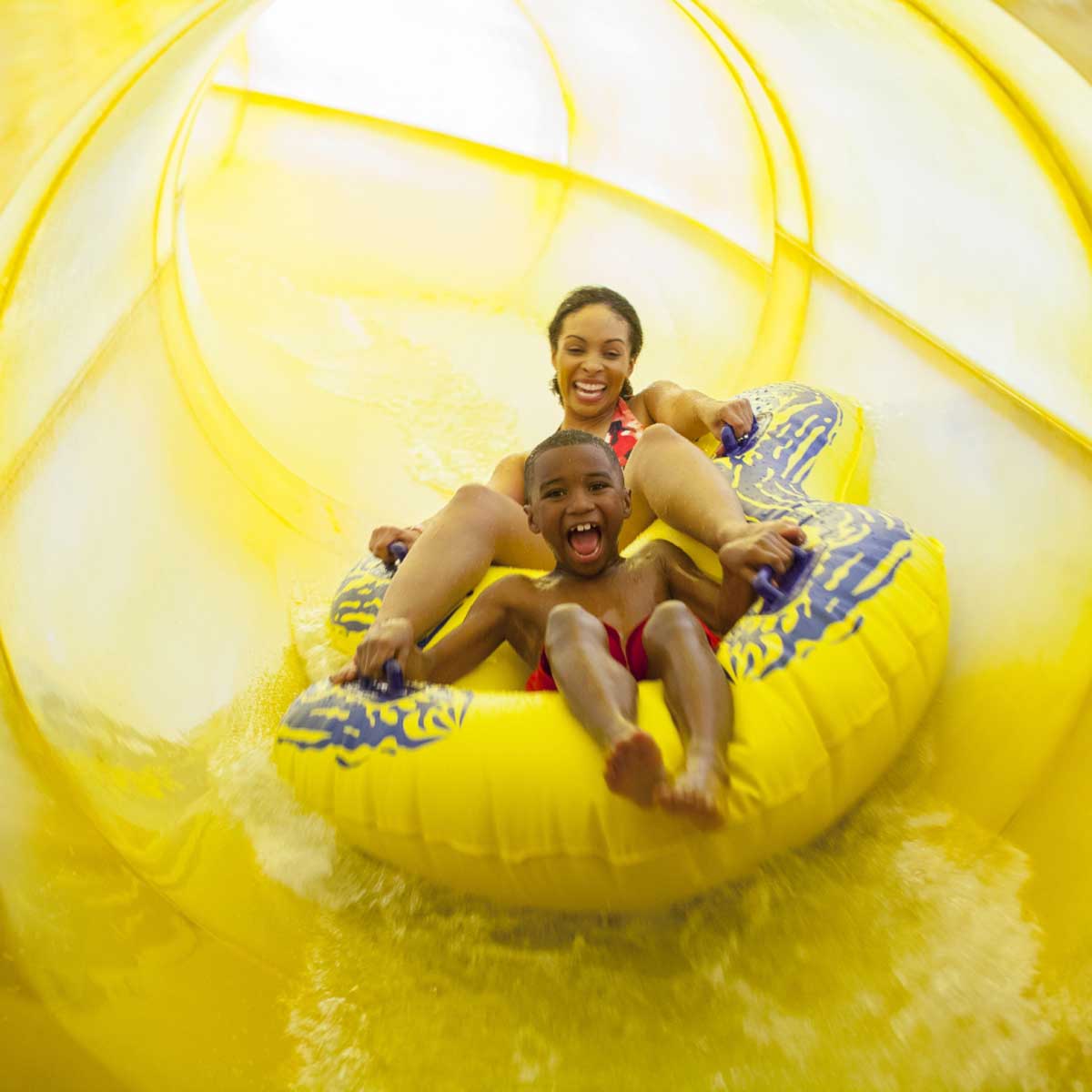 Water Adventures
Of course, the main attraction is the 93,000 square-foot waterpark where the water is always a pleasant 84 degrees. On the day you check-in, you can use the water park starting at 1 p.m. And here's a tip: On the day you check out, you can stay and play all day. There are four-story tube rides and a water jet-fueled vortex for thrill-seeking teens and tame slides for the littles, in addition to splash pads, a lazy river and a fun wave pool. Water jackets are included so that's one less thing to pack. If you want a special retreat, check out the cabana rentals, which are stocked with plenty of refreshing beverages, towels, a sofa, fridge, fan, TV, and other smart amenities.
There's also a huge pool outside that's open until mid-September. Raccoon Lagoon is an outdoor paradise with fountains and a play area plus lots of seating for soaking up the sun.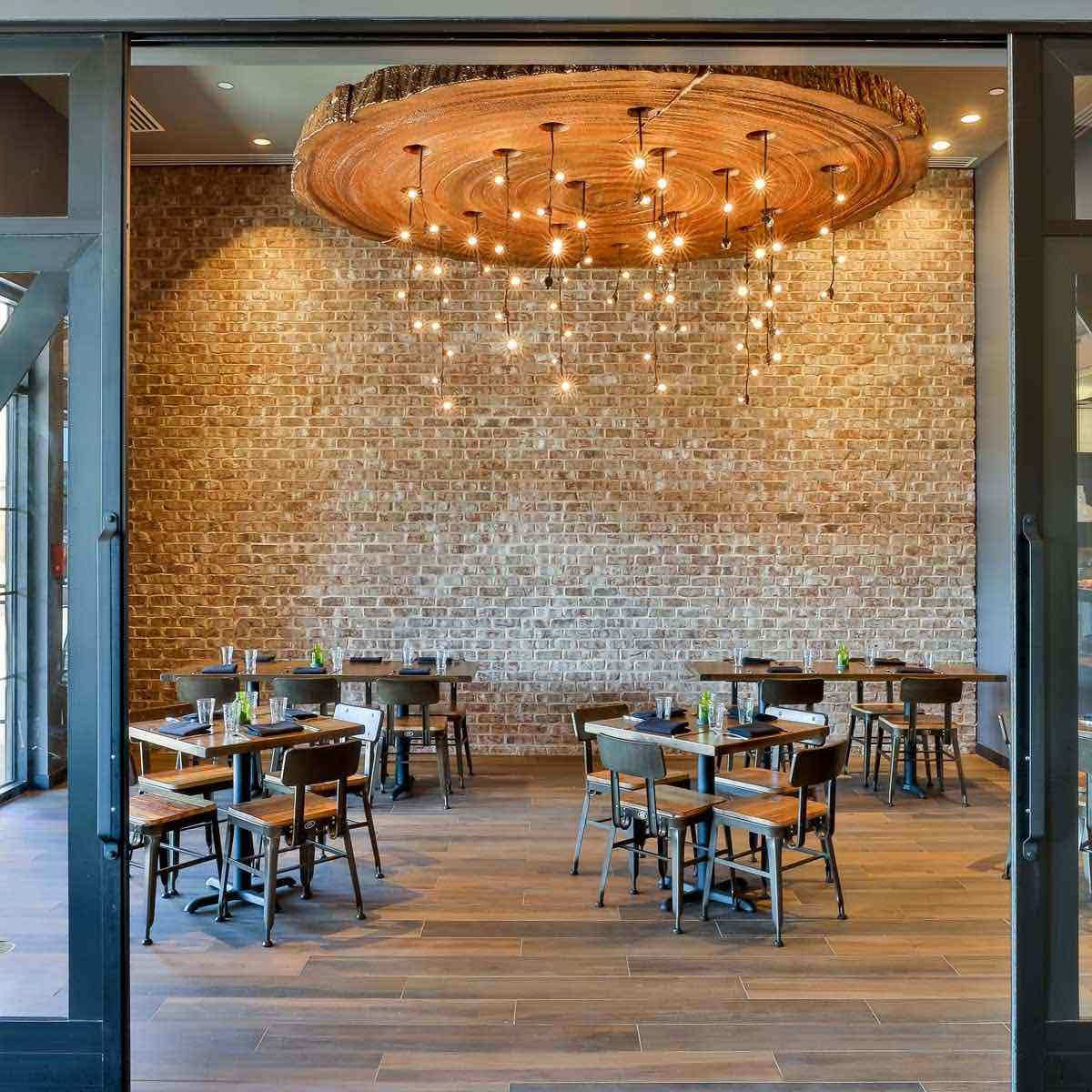 Dining
You can bring your own food into the park and the rooms have refrigerators. Of course, there's plenty of food at Great Wolf Lodge, but it's nice to have that option if you have special dietary needs or you're trying to stick to a budget. When you're ready for a treat, there are so many different restaurants available: from sit-down style to craveable, quick-serve food trucks open for breakfast, lunch, dinner, snacks and desserts.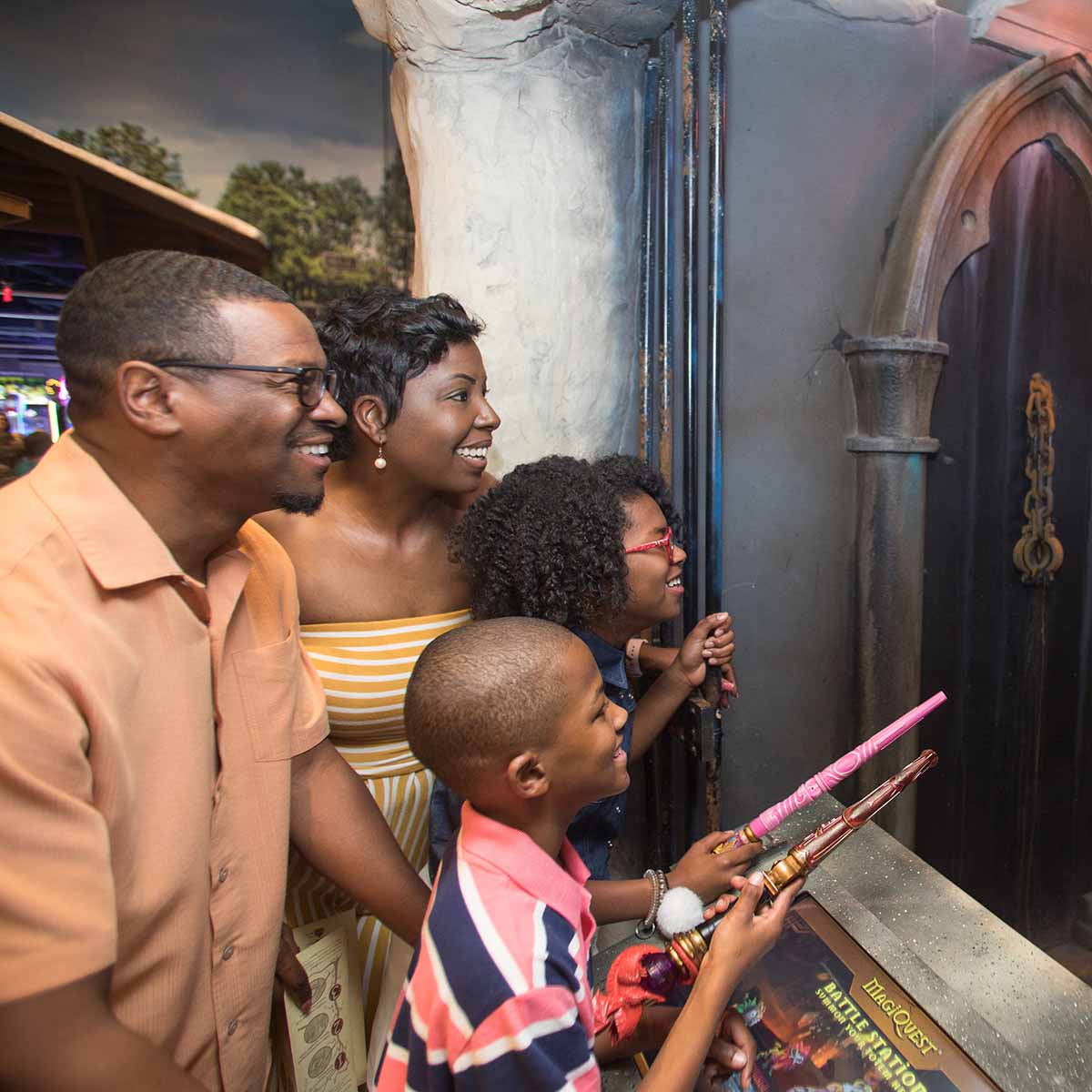 Dry Land Activities
Great Wolf Lodge is more than a water park and the fun doesn't stop once you dry off. Try MagiQuest, the live-action game. Choose a magic wand and see how it opens up a treasure hunt within the resort. The fun is in finding the special, interactive stations located all over – even in some of the rooms. You'll have fun exploring the lodge and tapping on things with your wand just to see what happens. It's appropriate for all ages, toddler up to adult. (Some companies have even done team-building exercises around it!) Kids can take their magic wand home with them as a souvenir. Ask about the knighting ceremony when you finish, too.
Bring more than a pair of flip-flops so you can try some of the other athletic endeavors, like climbing the 21-foot rock wall and the challenging ropes course. Or maybe you'd like to challenge your family to a friendly game of mini-golf or bowling. Ten Paw Alley has shorter lanes and kid-size bowling balls available that are easier for little hands. The adventure park also features Oliver's Mining Company, where you can try your luck at panning for gold. Gamers will also love the huge Northern Lights arcade that's open 24 hours and caters to all ages.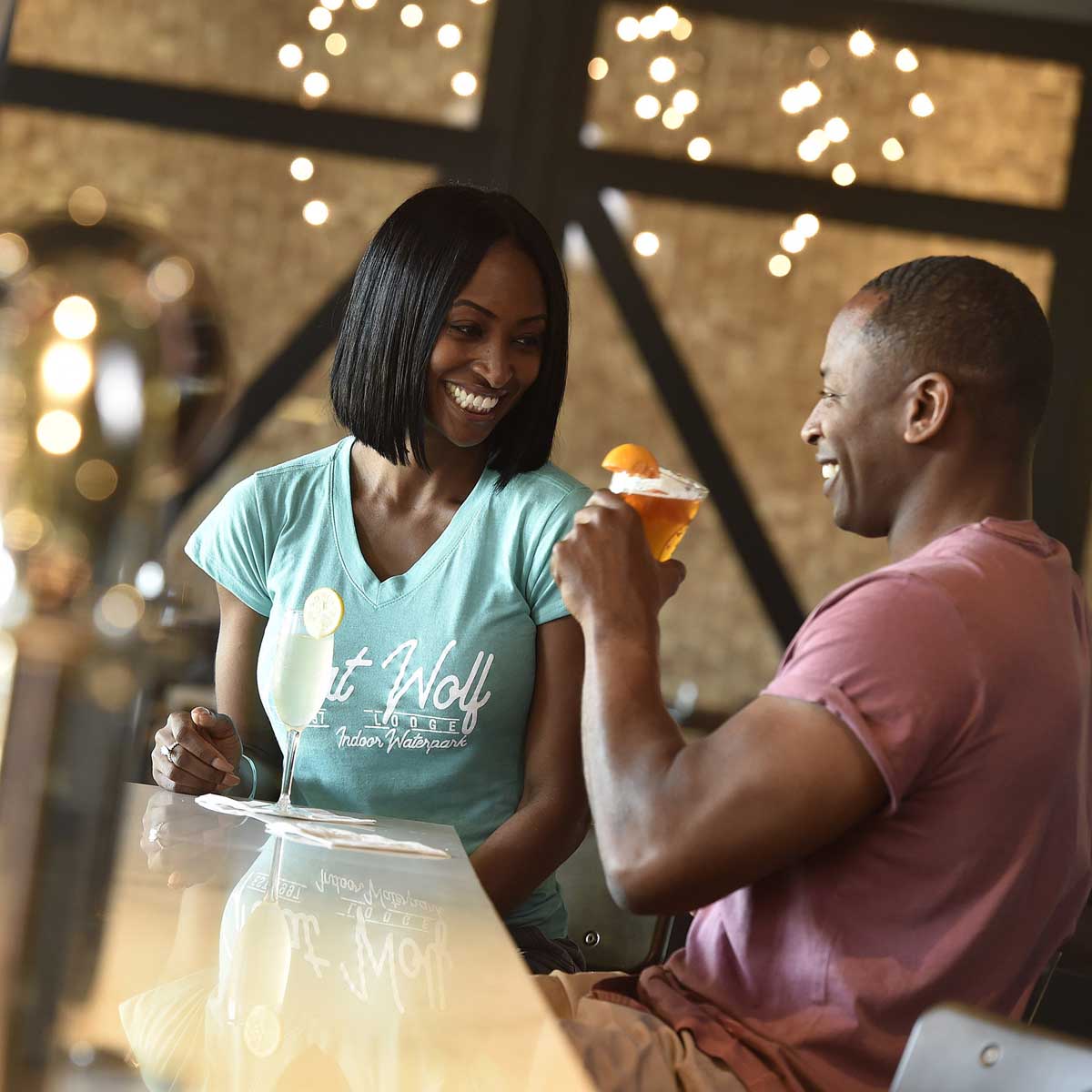 Adults Only
If parents want a little me time, there's Camp H.O.W.L. with activities to keep the kids entertained while you adult. (It should be renamed Camp Win-Win because it's hard to tell who's getting the better part of the deal.) Make it a date night at Barnwood restaurant with its locally sourced food and craft cocktails; then wind down at the fire pit outside.
Great Wolf Lodge also has a mobile app that you may find useful for your stay. You can check-in and check-out, order food, chat with the virtual concierge, see upcoming activities and get event reminders so you don't miss anything. For more info, see www.greatwolf.com/mobile-app.